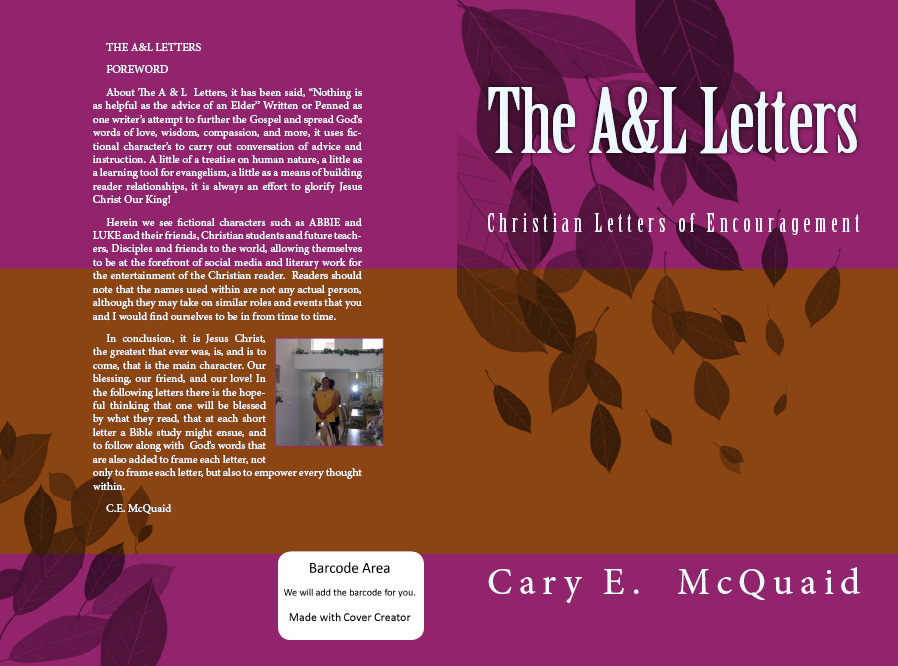 THE A&L LETTERS
About The A & L Letters, it has been said, "Nothing is as helpful as the advice of an Elder" Written or Penned as one writer's attempt to further the Gospel and spread God's words of love, wisdom, compassion, and more, it uses fictional character's to carry out conversation of advice and instruction. A little of a treatise on human nature, a little as a learning tool for evangelism, a little as a means of building reader relationships, it is always an effort to glorify Jesus Christ Our King!
Herein we see fictional characters such as ABBIE and LUKE and their friends, Christian students and future teachers, Disciples and friends to the world, allowing themselves to be at the forefront of social media and literary work for the entertainment of the Christian reader. Readers should note that the names used within are not any actual person, although they may take on similar roles and events that you and I would find ourselves to be in from time to time.
In conclusion, it is Jesus Christ, the greatest that ever was, is, and is to come, that is the main character. Our blessing, our friend, and our love! In the following letters there is the hopeful thinking that one will be blessed by what they read, that at each short letter a Bible study might ensue, and to follow along with God's words that are also added to frame each letter, not only to frame each letter, but also to empower every thought within.
JANUARY
TO LUKE: IT IS SO GOOD TO HEAR FROM YOU AND TO FIND HOW OUR FRIEND ABBIE HAS TAUGHT YOU OF THE ROMANS ROAD. CERTAINLY I REJOICE IN YOUR DECISION AT THE CROSSROAD OF CHOICES: ESPECIALLY AT THIS MOST IMPORTANT PLACE:
Romans 10:9 "That if you confess with your mouth the Lord Jesus, and you believe in your heart that God raised Him from the dead, you will be saved".
Luke 1:47 "And my spirit hath rejoiced in God my Saviour."
TO ABBIE: IT HAS BEGUN! I AM SO HAPPY TO HAVE MET LUKE AND TO LEARN OF HIS PROFESSION OF FAITH. WOW! WELL DONE ABBIE! WELL DONE! TOGETHER WITH JESUS AND ALL OF HEAVEN WE REJOICE!
"The righteous shall flourish like a Palm Tree: he shall grow like a cedar in Lebanon." Psalm 92:12
TO LUKE: OH IT'S A FEELING LIKE NO OTHER! TO BE SET FREE FROM WORRY AND FEAR AND TO KNOW THAT HE IS ON OUR SIDE! I AGREE AND CAN SEE HIS MIRACLE WORK SETTING YOU FREE IN YOUR LIFE! I REMEMBER THE DAY THAT I WAS SET FREE! OH MY!! PRAISE JESUS!
"And ye shall know the truth, and the truth shall set you free." John 8:31,32
TO ABBIE: YOU'RE EXACTLY RIGHT, OUR ENEMY COMES QUICKLY TO SEE WHO HE MAY TEMPT AND EVEN DEVOUR AS WE READ IN JOHN 10:10, BUT THANK GOD FOR JESUS WHO HIDES US AND KEEPS US SAFE! WE SHOULD PRAY FOR LUKE AND FOR EACH OTHER TOO!
"The Lord is good, a strong hold in the day of trouble; and he knowth them that trust in him." Nahum 1:7
SO MY FRIEND, HOW IS IT NOW? HAVE YOU BEEN SUCCESSFUL IN SETTLING MATTERS WITH LUKE? I AM PROUD OF YOU AND YOUR CONFIDENCE IN THE LORD JESUS KNOWING THAT JESUS IS ABLE TO HELP US IN OUR TIMES OF TROUBLE.
"So that we may boldly say, The Lord is my helper, and I will not fear what man shall do unto me." Hebrews 13:6
TO LUKE: HEY LUKE! I UNDERSTAND THAT YOU HAVE BEEN GOING THROUGH SOME DIFFICULT TIMES! I AM SO GLAD THAT YOU ARE OK. OUR ENEMY USUALLY STARTS THIS WAY, TRYING TO PULL US BACK TO HIM AS SOON AS WE COMMIT OURSELVES TO LIVING A RIGHTEOUS LIFE FOR JESUS. THANK GOD FOR JESUS, FOR HIS WORD THAT LEADS US, AND FOR FRIENDS LIKE ABBIE THAT WILL PRAY IN OUR TIME OF NEED. REMEMBER ALWAYS;
"Be sober, be vigilant; because your adversary the devil, as a roaring lion, walketh about, seeking whom he may devour: Whom resist steadfast in the faith, knowing that the same afflictions are accomplished in your brethren that are in the world."
1Peter 5:8,9
GOOD MORNING LUKE, HOW ARE YOU TODAY? OH, BY ALL MEANS, IT IS VERY APPROPRIATE TO HAVE QUESTIONS. I SEE, SOMETIMES OUR WELL MEANING FAMILY AND FRIENDS MAY NOT FULLY UNDERSTAND, YET OUR BATTLE IS NOT WITH THEM. AS IT IS WRITTEN,
"For we wrestle not against flesh and blood, but against principalities, against powers, against rulers of the darkness of this world, against spiritual wickedness in high places. Wherefore take unto you the whole armor of God, that ye may be able to stand in the evil day, and having done all, to stand. Stand therefore, having your loins girt about with truth, and having on the breastplate of righteousness; and your feet shod with the preparation of the gospel of peace; Above all, taking the shield of faith, wherewith ye shall be able to quench all the fiery darts of the wicked. And take on the helmet of salvation, and the sword of the spirit, which is the word of God: Praying always with all prayer and supplication in the spirit, and watching thereunto with all perseverance and supplication for all saints." Ephesians 6:10-18
TO ABBIE: FINDING THE WILL OF GOD IS NOT ALWAYS THE EASIEST THING. IT'S A GREAT QUESTION THOUGH, AND THE ANSWER IS THIS, IF WE SHOULD COMMIT OUR WORKS UNTO THE LORD HE WILL BE OUR GUIDE, AS IT IS WRITTEN,
"I will instruct thee and teach thee in the way that thou shalt go: I will guide thee with mine eye." Psalm 32:8
"For this God is our God forever and ever: he will be our guide even unto death." Psalm 48:14
HI ABBIE, SOME MORE ABOUT THE WILL OF GOD, REGARDING THE WILL OF GOD THERE ARE SOME THINGS THAT ARE CERTAIN AND EASY TO FIND, SUCH AS, IT IS THE WILL OF GOD THAT WE FOLLOW JESUS AND LEARN FROM HIM. AS WE READ,
"Follow me and I will make you Fishers of men." Mathew 4:19
"Study to show thyself approved unto God, A workman that needeth not to be ashamed, rightly dividing the word of truth." 2Timothy 2:15
TO LUKE: MY FRIEND, WE ALL HAVE THESE STRUGGLES, IT IS IMPORTANT THAT WE THINK THIS WAY ABOUT OUR SHORTCOMINGS LEST WE FORGET WHERE WE CAME FROM, ALWAYS WE MUST BE PATIENT WITH OTHERS AND LONGSUFFERING, REMEMBER AS JESUS HAS SHOWN US:
"The Lord is not slack concerning his promise, as some men count slackness; but is longsuffering to us-ward, not willing that any should perish, but that all should come to repentance." II Peter 3:9
OUR ENEMY WANTS US TO FOCUS ON TIME, AS IN "A GOOD TIME" WHICH IS VERY SHORT AND LIMITED, WHILE JESUS WANTS US TO FOCUS ON ETERNITY WHICH OF COURSE IS FOREVER, IF WE SHOULD IGNORE ETERNITY AND SIMPLY FOCUS ON THE PRESENT "TIME" THEN WE WILL HAVE NO FORESIGHT INTO THE FUTURE AND NO CONCERN FOR WHERE WE GO IN THE FUTURE. ETERNITY SEEMS SO FAR, BUT IT STARTS NOW! AS WE READ:
"For the wages of sin is death; but the gift of God is eternal life through Christ Jesus our Lord." Romans 3:23
"These things have I written unto you that belive on the name of the Son of God; that ye may know that ye have eternal life, and that ye may belive on the name of the Son of God. 1John 5:13
TO ABBIE: I AM ALWAYS SO DELIGHTED TO HEAR OF YOUR HEART FOR THE MOST IMPORTANT THINGS IN CHRIST, THE CHURCH, FAITHFULNESS, FAMILY, AND OUR RESPONSIBILITY, AND LOVE, AND OUR DEALING OUT OUR BREAD TO THE HUNGRY/HURTING SOUL. IT IS THROUGH THESE ACTIONS THAT WE WIN THE LOST. IN THIS TIME WHERE THE HARVEST IS TRULY RIPE OUR HEART OF COMPASSION AND FAITHFULNESS WILL HAVE THE MOST POWER.
"Pure religion and undefiled before God and the Father is this, To visit the Fatherless and widows in their affliction, and to keep himself unspotted from the world." James 1:27
"Is not this the fast that I have chosen? To loose the bands of wickedness, to undo heavy burdens, and to let the oppressed go free, and that ye break every yoke? Is it not to deal the bread to the hungry, and that thou bring the poor that are cast out to thy house? When thou seest the naked, that thou cover him; and that thou hide not thyself from thine own flesh? Isaiah 58:6,7
the phillippian jailer mt7:24 heareth the word mt 5:24, acts 16:32 acts 9
AGAIN WE ATTEND TO THE MEATIER MATTERS IN CHRIST, THE QUESTION BEING: HOW MUST A PERSON BE SAVED? THERE ARE SEVERAL EXAMPLES FOR US THAT WE CAN LOOK TO, 1ST LET'S START WITH THE FIRST THING THAT MUST BE DONE: "BELIEVE" HERE WE SEE THE PHILIPPIAN JAILER:
"And brought them out,and said, Sirs, what must I do to be saved? And they said, Believe on the Lord Jesus Christ, and thou shalt be saved, and thy house." Acts 16:30,31
TO LUKE: WE ARE PECULIAR TO THE WORLD, EVEN HATED IN SOME PLACES, AND SOMETIMES WE ARE TO THEM A SHOWPIECE OF RIDICULE, ALL BECAUSE WE REPRESENT AN OPPOSITION TO FREE REIGN, AND ILLICIT FUN, BUT DON'T THINK THIS STRANGE MY FRIEND WHEN OTHERS FAIL TO BEFRIEND YOU, OR WHEN OLD FRIENDS TURN AWAY, AS WE READ THIS WARNING OF FORTHCOMING WOES:
"And ye shall be hated of all men for my name's sake: but he that shall endure unto the end, the same shall be saved." Mathew 13:13
"We are troubled on every side, yet not distressed; we are perplexed, but not in despair; Persecuted, but not forsaken; cast down, but not destroyed;" IICorinthians 4:8,9
TO ABBIE: SINCE OUR LAST LETTER, I WAS EXPECTING THAT OUR CONVERSATION WOULD CONTINUE IN REGARDS TO "HOW MUST A PERSON BE SAVED?", BUT THIS QUESTION ALSO TRIGGERS A SPECIAL WORD IN US THAT IS REQUIRED TO HAVE IN THIS PROCESS OF SALVATION. WE CANNOT ADDRESS SALVATION FOR OTHERS WITHOUT HAVING COMPASSION IN OURSELVES FOR THEM, SO THEY MUST FIRST "BELIEVE" AND WE MUST FIRST HAVE "COMPASSION" AND "CAME WHERE HE WAS" - MOVING SLOWLY BE SURE TO NOT MISS THIS:
"And of some have compassion, making a difference: And of others save with fear, pulling them out of the fire; hating even the garment spotted by the flesh." Jude: vs 22, vs 23
"But a certain Samaritan, as he journeyed, came where he was: and when he saw him, he had compassion on him." Luke 10:33
TO LUKE: GOOD MORNING LUKE! YESTERDAY I MET ANOTHER FRIEND OF YOURS. JAMES, HE TOLD ME A FEW THINGS OF HOW YOU BOTH HAVE KNOWN EACH OTHER SINCE KINDERGARTEN, AND THAT FOR MANY YEARS YOU PLAYED TOGETHER GROWING UP, AND HOW NOW YOU WORK TOGETHER AND TALK EVERYDAY. HOW GREAT IS IT TO HAVE FAITHFUL FRIENDS! I'M SURE THAT I WILL BE TALKING WITH HIM OFTEN IN THE DAYS TO COME. IT IS ALWAYS GREAT TO HEAR OF SOLID FRIENDSHIPS! AS KING DAVID SAYS ABOUT OUR LORD AND AS KING SOLOMON INSTRUCTS US,
"I am a companion of all them that fear thee, and of them that keep thy precepts." Psalm 119:163
"A man that hath friends must shew himself friendly: and there is a friend that sticketh closer than a brother." Proverbs 18:24
TO JAMES: HI JAMES, IT WAS NICE TO MEET YOU YESTERDAY AND TO HEAR OF YOUR FRIENDSHIP WITH LUKE AND ABBIE. SINCE YOU HAVE KNOWN THEM FOR A GOOD PART OF YOUR LIFE WERE YOU ALSO INSTRUMENTAL IN LEADING LUKE TO THE LORD? I WILL ONE DAY LIKE TO HAVE A TALK WITH THE THREE OF YOU AND TO LEARN OF YOUR CHILDHOOD STORIES TOGETHER. IT IS GREAT TO HAVE CHRISTIAN FELLOWSHIP AS WE READ:
"Let the word of Christ dwell in you richly in all wisdom; teaching and admonishing one another in psalms and hymns and spiritual songs, singing with grace in your hearts to the Lord." Colossians 3:16
TO ABBIE: HI ABBIE! I AM HAPPY TO TELL YOU THAT I MET YOUR FRIEND JAMES YESTERDAY, I AM LEARNING SO MUCH ABOUT THIS GROWING GROUP OF CHRISTIAN FRIENDS. NOW AGAIN, REGARDING "HOW MUST A PERSON BE SAVED?" IN THE LAST LETTER WE DISCUSSED BELIEVING AND ALSO COMPASSION, BUT NOW LET US TAKE A LOOK AT HEARING. AND SPECIFICALLY HOW SAUL THE GREAT CHRISTIAN PERSECUTOR WAS SAVED BY HEARING THE VOICE OF GOD! IMAGINE GOD HAVING COMPASSION ON SUCH A BRUTE AND SAVING HIM!
"And Saul, yet breathing out threatenings and slaughter against the Disciples of the Lord, went unto the high priest, And desired of him letters to Damascus to the synagogues, that if he found any in this way, whether they were men or women, he might bring them bound unto Jerusalem. And as he journeyed, he came near Damascus: AND SUDDENLY there shined about him a light from heaven: And he fell to the earth, AND HEARD A VOICE SAYING UNTO HIM, SAUL, SAUL, WHY PERSECUTEST THOU ME? Acts 9:1-12
SO HAVE YOU HAD TIME TO READ ACTS 9:1-12? DO YOU HAVE QUESTIONS YET? GOD WILL ALWAYS AVAIL UNTO US THOSE IN OUR LIFE THAT STAND AT THE CROSSROADS AND POINT US IN THE RIGHT DIRECTION, AS IT WAS WITH ANANIAS:
"And Ananias went his way, and entered into the house; and putting his hands on him said, Brother Saul, the Lord, even Jesus that appeared unto thee in the way as thou camest, hath sent me, that thou mightest receive thy sight and be filled with the Holy Ghost." Acts 9:17
OH MY FRIEND, THE DISCOMFORT YOU DESCRIBE, IT IS DIFFICULT WHEN WE ARE HEAVY AT HEART, MISSING SOMEONE HELD DEAR, REMEMBERING SUCH MEMORIES SO CLEAR, THE WALKS LATE AT NIGHT, THE GARDEN PHOTOS IN SIGHT, THE JOY AT THE DOOR, AND MORE AND MORE, MANY SUCH TIMES ARE LIKE A FLOOD IN THE MIND , THESE MAY BE COMMON UNTO ALL, YET GOD BRINGS TO US WHO LOOK TO HIM, COMFORT TO OUR HEARTS, AS IT IS WRITTEN:
"Let not your heart be troubled: ye belive in God, belive also in me." John 14:1
"Peace, I leave with you, my peace I give unto you: not as the world giveth, give I unto you. Let not your heart be troubled, neither let it be afraid." John 14:27
"Let us not be weary in well doing: for in due season we shall reap, if we faint not." Galatians 6:9
TO LUKE: I'M SO GLAD THAT YOU SPENT SOME TIME WITH ABBIE, HER HEART WAS HEAVY AS IT SOMETIMES BECOMES WHEN WE ARE WAITING ON GOD FOR A PROMISE, BUT WE KNOW THAT GOD'S PROMISE IS TRUE AND HIS COMFORT IS ALWAYS WITH US, AS WE READ:
"The Lord is not slack concerning his promise, as some men count slackness; but is longsuffering to us-ward, not willing that any should perish, but that all should come to repentance." II Peter 3:9
"Blessed are they that mourn: for they shall be comforted." Mathew 5:4
TO JAMES: YES YOU ARE RIGHT WE OUGHT TO BE SO GRATEFUL FOR JESUS, IT'S TRUE WE ARE NOT OUR OWN RIGHTEOUSNESS, BUT JESUS IS OUR RIGHTEOUSNESS, AND BECAUSE OF JESUS WE HAVE BECOME THE RIGHTEOUSNESS OF GOD IN HIM AS IT IS WRITTEN:
For he hath made him to be sin for us, who knew no sin; that we might be made the righteousness of God in him." 2Corinthians 5:21
TO ABBIE: WHEN YOU LOOK UP INTO THE SKY WHAT DO YOU SEE NOW? I KNOW THAT BEFORE I WAS SAVED AND BECAME A BELIEVER, I LOOKED INTO THE SKY AND MAYBE I SAW ONLY THE CLOUDS, OR THE SUN, OR AN AIRPLANE PASSING BY, BUT FROM THE MOMENT THAT I WAS SAVED MY VIEW BECAME VERY DIFFERENT, ALWAYS NOW WHEN I LOOK INTO THE SKY I IMAGINE JESUS COMING IN THE CLOUDS!
"Behold he cometh with the clouds; and every eye shall see him, and they also which peiced him: and all kindreds of the earth shall wail because of him. Even so, Amen." Revelation 1:7
"And then shall appear the sign of the Son of Man in heaven: and then shall all the tribes of the earth mourn, and they shall see the Son of Man coming in the clouds of heaven with power and great glory." Mathew 24:30
TO LUKE: YO HAVE AN INTERESTING QUESTION, "DOES GOD TELL YOU WHAT HE IS GOING TO DO?" AND SURPRISINGLY THE ANSWER IS NO! GOD WILL NOT TELL US WHAT HE IS GOING TO DO, BUT RATHER HE REVAEALS TO US WHO HE IS. HAVE YOU EVER BEEN ASKED, WHAT DO YOU EXPECT TO DO IN YOUR LIFE? FAITH IS NOT IN KNOWING WHAT GOD WILL DO NEXT, BUT RATHER IT IS KNOWING WHO HE IS! WHAT HE CAN DO! AND HOW IMPORTANT YOU ARE TO HIM! TRUE FAITH IS TRUSTING GOD FOR WHO HE IS!
"Now faith is the substance of things hoped for, the evidence of things not yet seen." Hebrews 11:1
"By faith Abraham, when he was called to go out into a place which he should after receive for an inheritance, obeyed, and he went out, not knowing whither he went." Hebrews 11:8
TO JAMES: JAMES, THERE IS NO NEED TO APOLOGIZE FOR OUR KINDNESS, OFTEN OUR BEHAVIOR AS CHRISTIANS IS NOT WHAT SOME IN THE WORLD WOULD APPROVE, AND IN FACT THEY MAY THINK THAT WE OUGHT TO APOLOGIZE FOR BEING A CHRISTIAN AND DISPLAYING WONDERFUL EXAMPLES OF WHAT JESUS WOULD DO, BUT THIS IS NEVER TRUE. AS A REMINDER WE ARE CONTINUOUSLY IMPROVING, MOVING FORWARD, NOT TOWARDS AN IMAGE THAT THE WORLD DEEMS APPROPRIATE, BUT RATHER INTO THE IMAGE OF A LITTLE CHILD. AS WE READ:
"And said, Verily I say unto you, Except ye be converted, and become as little children, ye shall not enter the kingdom of heaven." Mathew 18:3
"Surely I have behaved and quieted myself, as a child that is weaned of his mother: my soul is even as a weaned child." Psalm 131:2
FEBRUARY
TO ABBIE: KNOWING JESUS IS KNOWING AT LEVELS. MANY SAY THEY KNOW JESUS, BUT THEY ARE NOT INTIMATE WITH HIM AND WE ARE SO EASILY CONVINCED THAT THEY ARE THE SAME CHRISTIAN AS WE ARE. THEY MAY KNOW OF JESUS, BUT AT WHAT LEVEL ARE THEY? DO YOU KNOW THAT EVEN HIS ENEMY KNOWS HIM, BUT IS NOT INTIMATE WITH HIM? WE MUST KNOW JESUS AS THE SHOULDER OR BOSOM THAT WE REST OUR HEAD UPON!
"Jesus saith unto him, Have I been so long time with you, and yet hast thou not knowm me, Philip? John 14:9
"Now there was leaning on Jesus bosom one of his disciples, whom Jesus loved." John 13:23
"When Jesus therefore saw his Mother, and the disciple standing by, whom he loved, he saith unto his Mother, Woman, behold thy son!" John 19:26
FEBRUARY 2014
TO ABBIE: GOOD MORNING ABBIE, GOD IS WITH US! KNOWING THAT GOD IS WITH US IS AMAZING, GOD HAS ENTERED INTO THIS WORLD THROUGH US, AND EACH TIME A PERSON IS BORN-AGAIN! GOD COULD HAVE CHOSEN TO ENTER INTO THIS WORLD IN MANY OTHER WAYS, BUT HE CHOSE TO ENTER THROUGH BELIEVERS! DOORS#1,#2,#3 ARE YOU AND ME, AND ALL WHO BELIEVETH UPON HIM. WHEN YOU GO OUT INTO THE WORLD TODAY REMEMBER GOD GOES WITH YOU!
"Therefore the Lord himself shall give you a sign; Behold, a virgin shall conceive, and bear a son, and shall call his name Immanuel." Isaiah 7:14
"For unto us a child is born, unto us a son is given: and the government shall be upon his shoulder: and his name shAll be called Wonderful, Counselor, The Almighty God, The Everlasting Father, The Prince of Peace!" Isaiah 8:8
FEBRUARY 2014
TO LUKE: WHAT DOES A LIVING SACRIFICE YOU ASK HAVE TO DO WITH BEING SUCCESSFUL? THIS IS FOLLOWED BY SO MANY MORE QUESTIONS SUCH AS: ARE YOU WILLING TO MAKE SOME SACRIFICES? WHAT ABOUT ONE'S SACRIFICE OF SELF? DO YOU WANT IT BAD ENOUGH? IS IT WORTH THE EFFORT? ALL OF THESE MUST BE CONSIDERED IF WE DESIRE SUCCESS IN OUR LIFE. MANY TIMES WE WILL HAVE TO BE WILLING TO PAY THE PRICE! WHAT IS THE PRICE OF SUCCESS? SACRIFICE! A LIVING SACRIFICE IS THE GIVING OF OURSELVES FOR GOD'S PURPOSE!
"And Isaac spake unto Abraham his Father, and said, My Father: and he said, Here am I, my son. And he said, Behold the fire and the wood: but where is the lamb for a burnt offering?" Genesis 22:7
"Greater love hath no man than this that a man lay down his life for his friends. John 15:13
" For God so loved the world that he gave his only begotten son that whomsoever believeth in him should not perish, but have everlasting life." John 3:16
YES, WE ALL HAVE THE WILL TO BELIEVE OR NOT. GOD NEVER PUSHES THIS ON ANY, LIKEWISE WE OUGHT TO NOT PUSH ON ANOTHER ALSO. THE WILL TO BELIEVE COMES FROM THE MIND AND HEART OF THAT PERSON WHO HEARS. THEY MUST SURRENDER TO GOD THEMSELVES, WE CANNOT BELIEVE FOR THEM. IN OTHER WORDS ONLY JESUS CAN GIVE TO THEM SALVATION, WE ARE SIMPLY THE MESSENGER, AND THEY ARE THE RECIPIENT OF THAT MESSAGE! AS JESUS HAS SAID:
"No man can come to Me, except the Father which hath sent Me draw him." John 6:44
"For with the heart one belives unto righteousness, and with the mouth confession is made unto salvation." Romans 10:10
FEBRUARY 2014
TO JAMES: GOOD DAY JAMES! ABSOLUTELY! IT WILL COST, NOW HERE'S THE THING, SOME WILL SAY TO FOLLOW GOD AND OBEY IT WILL COST THAT PERSON EVERYTHING, HOWEVER THE PERSON THAT CHOOSES TO OBEY GOD DOES NOT BEAR THE BRUNT OF THE COST BECAUSE IT WILL BE A TRUE DELIGHT FOR THEM, THE COST OF OBEYING GOD SEEMS TO BE MORE APPARENT IN THOSE THAT DO NOT LOVE HIM, AS IT REALLY EFFECTS THEIR PLANS, OR IN MANY CASES THEIR FUN! "OH DRATS THEY SAY! BECAUSE THEY FOLLOW JESUS WE ARE PULLED INTO THOUGHTS OF GOD THAT MAKE US UNCOMFORTABLE, WE HAVE BEEN TRYING TO AVOID GOD ALL ALONG!" NOW BECAUSE OF US THEY MUST NOW THINK! SO YES, DRAG THEM TO THE CROSS? YES, ABSOLUTELY!
"And as they led him away, they laid hold upon upon one Simon, a Cyrenian, coming out of the country, and on him they laid the cross, that he might bear it after Jesus." Luke 23:26
"And as they came out, they found a man of Cyrene, Simon by name: him theY compelled to bear his cross." Mathew 27:32
FEBRUARY 2014
TO ABBIE: GOOD MORNING! AND YOUR FRIEND'S NAME IS DEBRA? HI DEBRA, IT IS NICE TO MEET YOU. ABBIE, WHEN WE SEE JESUS IN OUR THOUGHTS WE SEE HIM IN MANY WAYS, LOVING AND COMPASSIONATE ARE A FEW OF THESE WAYS, BUT CRUCIFIED IS OFTEN THE LAST WAY THAT MANY SEE HIM, WHILE IT IS HIS CRUCIFICTION THAT WE NEED THE MOST! WITHOUT THIS NONE OF US ARE SAVED, AS WE READ, "BY HIS STRIPES WE ARE HEALED" AND "WE SHALL ALSO BE IN THE LIKENESS OF HIS RESURRECTION." SO MY FRIENDS, A CRUCIFIED AND RESURRECTED JESUS IS WHAT THE WORLD NEEDS MOST!
"For if we have been planted together in the likeness of his death, we shall be also in the likeness of his resurrection: knowing this that our old man is crucified with him, that the body of sin might be destroyed, that henceforth we should not serve sin." Romans 6:5,6
"But he was wounded for our transgressions, he was bruised for our iniquities: the chastisement of our peace was upon him; and with his stripes we are healed." Isaiah 53:5
WOW! THIS SOUNDS LIKE A GREAT BIBLE STUDY WITH YOU, LUKE, JAMES, AND DEBRA. IT IS A GROWING GROUP! BIBLE STUDY IS SUCH A GREAT TIME, AND THE TOPIC IS ABOUT BEING ALONE WITH GOD? GREAT! ALONE WITH GOD OFFERS SO MUCH OPPORTUNITY, AND THE GREATEST OPPORTUNITY TO HEAR A DIRECT MESSAGE TO OUR HEART, YOU KNOW, THAT ONE TO ONE, HIS HEART TO OURS! THAT'S WHEN JESUS SHARES THE MOST WITH US, ALONE IN OUR CLOSET! AS WE READ:
"But without a parable spake he not unto them: and when they were alone, he expounded all things to his disciples." Mark 4:34
"But thou, when thou prayest, enter into thy closet, and when thou hast shut thy door, pray to thy Father which is in secret; and thy Father which seeth in secret shall reward thee openly." Mathew 6:6
FEBRUARY 2014
TO JAMES: HI JAMES! DID YOU LIKE THE BIBLE STUDY WITH LUKE, ABBIE, AND DEBRA? OH, SO IT ALSO TURNED INTO QUESTIONS OF WHY JESUS CAME? WE SEE IN MATHEW AND LUKE THAT PEACE IS NOT THE ONLY REASON THAT JESUS CAME, OFTEN CHANGE BRINGS CONFLICT! AND JESUS DEMANDS, "NO COMPROMISE!" MANY TIMES A BIBLE STUDY WILL RAISE SO MANY NEW QUESTIONS, TOPICS, AND GREAT COMMENTS. THAT IS WHY I LOVE TO ATTEND THEM, THERE IS SO MUCH TO BE LEARNED ABOUT JESUS! HOW OFTEN DO WE PUT JESUS' CHARACTER IN A BUBBLE AND ASSUME? FOR EXAMPLE:
"Think not that I am come to send peace on the earth: I came not to send peace, but a sword." Mathew 10:34
"I am come to send fire on the earth; and what will I, if it be already kindled?" Luke 12:49
FEBRUARY 2014
TO DEBRA: HI DEBRA HOW ARE YOU, IT'S sure is NICE TO FINALLY GET THE CHANCE TO CHAT WITH YOU MORE, EVEN THOUGH WE ARE IN THIS CRAZY, BUSY STORE! WOW, THERE ARE SO MANY PEOPLE IN HERE! HOW DID YOU LIKE THE BIBLE STUDY? GREAT! SO NOW THEY HAVE YOU MOTIVATED TO GET INVOLVED? THAT IS AWESOME! ANSWERING THE CALL OF GOD IS VERY SPECIAL, IT CHANGES OUR LIFE, AND THROUGH OUR DESIRE TO HEAL OTHERS OUR HEART BECOMES SO BLESSED! I AM SO HAPPY TO FINALLY GET THE CHANCE TO TALK TO YOU, HAVE A BLESSED DAY! "HERE AM I LORD" IS THE BEST ANSWER THAT WE COULD EVER GIVE TO GOD!
"Also I heard the voice of the Lord, saying, Whom shall I send, and who will go for us? Then said I, Here am I; send me." Isaiah 6:8
"And he said unto them, Go ye into all the world, and preach the Gospel to every creature. He that believeth and is baptized shall be saved; but he that believeth not shall be damned." Mark 16:15,16
FEBRUARY 2014
TO LUKE: HEY LUKE, IT'S BEEN A FEW DAYS, HOW ARE YOU? I SEE THAT GOD IS USING YOU FOR HIS PURPOSE. IT IS THE DEVOTED AND LOYAL PERSON THAT JESUS WILL CHOOSE TO WORK THROUGH, AND EVEN THOUGH WE ENDURE SOME STRUGGLES GOD WILL ALWAYS MAKE IT ALL WORK TO THE GOOD TO THOSE THAT LOVE HIM, TO THOSE THAT ARE LOYAL AND CONTINUE TO AVAIL THEMSELVES TO HIS PURPOSE. KEEP UP THE GOOD WORK LUKE! GOD BLESS YOU!
"And we know that all things work together for the good to those who love God, to those who are called according to his purpose." Romans 8:28
"who has saved us and called us with a holy calling, not according to our works, but according to his own purpose and grace which was given to us in Christ Jesus before time began," 2Timothy 1:9
BRAND NEW LUKE, BRAND NEW! SANCTIFIED! SET APART! OUR SANCTIFICATION LITERALLY MEANS SEPARATED OR SET APART. IT MEANS THAT WE HAVE DECLARED THAT WE BELONG TO GOD. "ONE WHO BELONGS TO CHRIST." WE SOMETIMES MAKE MAKE MISTAKES IN OUR JOURNEY, BUT THERE IS NO MISTAKING WHO WE BELONG TO! THE WHOLE WORLD KNOWS WHO WE ARE, AND WHO WE BELONG TO, THIS MY FRIEND IS SANCTIFICATION! THAT IS WHERE THE WORD SAINT COMES FROM, NOT THAT WE ARE PERFECT IN BEHAVIOR, BUT RATHER THAT WE BELONG TO THE ONE WHO WAS, IS, AND FOREVER WILL BE, "PERFECT"!
"Therefore we were buried with Him through baptism into death, that just as Christ was raised from the dead by the glory of the Father, even so we should walk in newness of life." Romans 6:4
"buried with him in baptism, in which you also were raised with him through faith in the working of God, who raised him from the dead." Colossians 2:12
TO ABBIE: I AGREE! WE ABSOLUTELY NEED MORE PRAYER WARRIORS! PRAYER IS THE MOST IMPORTANT ACTIVITY THAT WE CAN ENGAGE OURSELVES IN, AND THE EFFECTUAL WORKING OF GOD OFTEN IS IN RESPONSE TO OUR EFFECTUAL FERVANT PRAYER! NOW MANY HAVE ASKED "WHAT IS AN EFFECTUAL FERVANT PRAYER?" AN EFFECTUAL FERVANT PRAYER IS A PRAYER THAT BRINGS OUR PETITION BEFORE GOD WITH PASSION AND WITH A TARGET IN MIND, AND THAT SPECIFIC TARGET IS HIS HEART! WE MUST DIRECT OUR PRAYERS WITH EVERY INTENT ON REACHING HIS HEART. SO THESE TYPE OF PRAYERS ARE ABSOLUTELY IN AGREEMENT WITH ALL THAT GOD SAYS AND WANTS! NO JIBBER JABBER! JUST HIS WORD COMING FROM OUR HEART TO HIS!
"Then He spoke a parable to them, that men always ought to pray and not lose heart, saying:" Luke 18:1
"Is anyone among you suffering? Let him pray. Is anyone cheerful? Let him sings psalms. Is anyone among you sick? Let him call for the elders of the church, and let them pray over him, annointing him with oil in the name of the Lord. And the prayer of faith will save the sick, and the Lord will raise him up. And if he has committed sins, he will be forgiven. Confess your trespasses to one another, and pray for one another, that you may be healed. The effective, fervent prayer of a righteous man avails much." James 5: 13-16
TO JAMES: JAMES, WE MUST ALWAYS KNOW THAT GOD'S SUPPLY NEVER RUNS OUT! HE IS OUR GOD OF ABUNDANCE, ALWAYS ABLE TO SUPPLY OUR NEED. HE NEVER RUNS OUT OF RESOURCES, AND WE HAVE ACCESS TO ALL THAT HE HAS THROUGH FAITH IN HIM! OUR GOD WILL SUPPLY!
"And my God shall supply all your need according to his riches in glory by Christ Jesus." Philippians 4:19
"So we are always confident, knowing that while we are at home in the body we are absent from the Lord. For we walk by faith, not by sight." 2Corinthians 5:6,7
TO THE A&L GROUP: ABBIE, LUKE, DEBRA, JAMES. ALL HERE! HEY GROUP I'M SO GLAD TO COME TOGETHER FOR OUR SECOND GROUP MEETING. FIRST I WANT TO TELL YOU ALL HOW IMPORTANT EACH OF YOU ARE TO GOD AND TO THE AREAS OF INFLUENCE THAT YOU EACH ARE REACHING OUT TO, IF WE DIDN'T HAVE WILLING SERVANTS LIKE YOU TO SHARE THE LIGHT OF GOD'S WORD AND THE MESSAGE OF HIS GREAT SALVATION THROUGH HIS SON, THEN IT WOULD BE A MUCH DARKER WORLD THAT WE LIVE IN, AND THERE WOULD BE NO CHALLENGE MADE AGAINST THE UNRIGHTEOUSNESS THAT TRIES TO STEAL THE SOUL OF MEN AND WOMEN IN THIS AREA! WITH THAT I WANT TO ENCOURAGE EACH OF YOU TO FIGHT AGAINST ALL VOICES THAT STRIVE TO DISTRACT YOU FROM THIS PURPOSE! YOU ARE HIS AND SO NEEDED IN WHAT YOU ARE DOING!
"For we are His workmanship, created in Christ Jesus for good works, which God prepared beforehand that we should walk in them." Ephesians 2:10
"He has shown you, O man, what is good; And what does the Lord require of you But to do justly, To love mercy, And to walk humbly with your God?" Micah 6:8
TO JAMES: HEY JAMES AND LUKE WHO IS YOUR NEW FRIEND? JOHN? IT'S NICE TO MEET YOU JOHN. WELL, WHENEVER WE GO ABOUT OUR DAILY ACTIVITIES WE CALCULATE THINGS AND ESTIMATE THINGS, AND SAY THIS OR THAT WILL HAPPEN, OFTEN MAKING A TO-DO LIST, BUT HOW OFTEN DO WE FORGET TO INCLUDE GOD? MAKING ROOM FOR GOD IN OUR PLANS IS ESSENTIAL! OUR SUCCESS HINGES ON GOD'S PLEASURE. IT IS VERY IMPORTANT THAT WE INCLUDE GOD IN EVERYTHING THAT WE DO!
"But when it pleased God, who separated me from my mother's womb and called me through his grace." Galatians 1:15
"And lean not on your own understanding; In all your ways acknowledge Him, and He shall direct your paths." Proverbs 3:5,6
TO DEBRA: HI DEBRA! CHURCH WAS SO WONDERFUL, SOMETIMES I IMAGINE HOW GOD MIGHT SEE IT FROM ABOVE, MILLIONS OF HIS CHILDREN COMING TOGETHER TO PRAISE HIM, AND TO SING SONGS OF LOVE AND WORSHIP TO HIM. JESUS IS SO BEAUTIFUL! AND THE BODY OF CHRIST COMING TOGETHER IS JUST ONE SAMPLE OF HIS BEAUTY AT WORK! OH, WE STUDIED PSALM 120 TODAY, OUR PASTOR CONTINUED TO ENCOURAGE US HOW WE MUST CRY OUT TO GOD IN SUCH A TIME AS THIS. TOGETHER WE WILL CALL UNTO GOD AND HE PROMISES TO ANSWER!
"In my distress I cried to the Lord, And he heard me." Psalm 120:1
"If my people who are called by My name will humble themselves, and pray, and seek My face, and turn from their wicked ways, then I will hear from Heaven, and will forgive their sin and heal their land." 2Chronicles 7:14
TO LUKE: HEY LUKE, OF COURSE THERE ARE SO MANY THINGS IN THIS WORLD TO WORRY ABOUT. THE NATURAL MAN IN US DESIRES TO FIX AND TO MAKE THINGS BETTER, BUT THE TRUTH IS, WE ARE UNABLE IN OUR NATURAL SELVES TO FIX THINGS CORRECTLY, WE MUST RELY ON GOD! JESUS IS OUR SOURCE AND WE MUST CONTINUE GO TO HIM REALIZING THAT THESE WORLD ISSUES ARE FIGHTING FOR OUR ATTENTION TO DISTRACT US FROM TURNING TO JESUS! KEEP YOUR EYES ON JESUS!
"Now if God so clothes the grass of the feild, which today is, and tomorrow is thrown into the oven, will he not much more clothe you, O ye of little faith?" Mathew 6:30
"But my eyes are upon You, O God the Lord; in you I take refuge; Do not leave my soul destitute." Psalm 141:8
TO ABBIE: HI, KNOWING THAT HE IS GOD, WE REST IN THE STILLNESS OF HIS PRESENCE, GOD TELLS US TO BE STILL AND TO WAIT ON HIM, HE WILL MAKE THINGS RIGHT, HE WILL WORK ALL THINGS TO OUR GOOD. ALTHOUGH THE WAVES RISE US AGAINST US, AND TROUBLE SEEMS FOR SURE, ALTHOUGH MANY SPEAK AGAINST US WITH WORDS OF DARKNESS FROM THEIR HEARTS, REMEMBER ABBIE, GOD IS WITH US ALWAYS, AND THE WAVES WILL BE FORCED TO DISSAPPEAR INTO HIS CALMNESS AND LOVE! HIS GLORY WILL SHINE UPON US AS WE WAIT IN CONFIDENCE.
"Be still, and know that I am God; I will be exalted among the nations, I will be exalted in the earth!" Psalm 46:10
"There is therefore now no condemnation to those who are in Christ Jesus, who do not walk according to the flesh, but according to the spirit." Romans 8:1
HI ABBIE! PEACE IS WHAT THE WHOLE WORLD SEARCHES FOR, THAT PERFECT PEACE, WHERE WE ARE AT EASE AND TROUBLES SEEM SO FAR AWAY, BUT LITTLE IS KNOWN ABOUT HOW TO ACHIEVE PERFECT PEACE. IT REALLY IS A SIMPLE THING, THE SOLUTION THAT GOD GIVES TO US IS OFTEN EXCHANGED FOR SOME SORT OF CHECKLIST OR A MAN-MADE SOLUTION WHICH NEVER WORKS. GOD'S SOLUTION TO HAVING PERFECT PEACE IS IN KEEPING OUR FOCUS ON HIM!
"You will keep him in perfect peace, whose mind is stayed on thee, because he trusts in you." Isaiah 26:3
"Trust in the Lord with all your heart, And lean not to your own understanding; In all your ways acknowledge Him, And He shall direct your path." Proverbs 3:5,6
TO LUKE: GOOD MORNING! JUST GETTING READY TO GO VISIT. VISITATION AND BUILDING RELATIONSHIPS ARE SO VALUABLE. IT IS IMPORTANT TO KNOW HOW MUCH YOU ARE NEEDED TO PUT A SMILE ON THE FACE OF ANOTHER AS WE KNOW THAT JOY IS POWERFUL IN THE HEALING OF THE HEART AND THE STRENGTHENING OF THE SOUL.
"Then he said to them, "Go your way, eat the fat, drink the sweet, and send portions to those for whom nothing is prepared: for this day is holy to our Lord. Do not sorrow, for the joy of the Lord is your strength." Nehemiah 8:10
TO DEBRA: HI DEBRA, IT'S A BEAUTIFUL DAY! WE ARE SO BLESSED TO HAVE JESUS, FAMILY, FRIENDS, AND HIS WORDS OF FAVOR! SO TELL WHAT HAVE YOU BEEN DOING SINCE I LAST SAW YOU? KEEPING UP WITH THINGS SOMETIMES IS DIFFICULT IN THIS FAST PACED WORLD THAT WE LIVE IN, EACH OF US HAS OUR LIVES TO LIVE AND OFTEN FORGET TO SLOW DOWN AND TAKE TIME TO HAVE SOME FELLOWSHIP TOGETHER. TODAY IS SUCH A BEAUTIFUL DAY FOR THE SLOW DOWN! HOW GOOD IT IS FOR BROTHERS AND SISTERS TO GATHER TOGETHER.
"Behold, how good and pleasant it is for brethren to dwell together in unity! It is like the precious oil upon the head."Psalm 133:1,2
TO JAMES: SEEKING GOD IS SO IMPORTANT, EACH TIME THAT WE SEEK HIM ADVERSITY IS INTERRUPTED, CONFLICT IS MADE TO WAIT, AND TURMOIL IS SUSPENDED IN THE AIR. HERE THE SPIRITUAL BATTLE MAKES A HUGE SHIFT AND RIGHTEOUSNESS TAKES THE HELM OF OUR LIFE! SEEKING GOD, CASTING OUR BURDEN UPON HIM, MAKING OUR REQUEST KNOWN KICKS OFF AN AVALANCHE THAT THE UNDERWORLD TREMBLES AT AND IS TOTALLY DUMBFOUNDED ON HOW TO REACT, DISABLED IN ANY FURTHER ACTIONS, AND FROZEN IN TIME!
"Evening and Morning and at Noon I will pray, and cry aloud, And he shall hear my voice. He has redeemed my soul in peace from the battle that was against me, For there were many against me. God will hear and afflict them, Even He who abides from old. Selah. Because they do not change, therefore they do not fear God." Psalm 55:17-19
TO LUKE: SO YOU HAVE SCHEDULED THE BIBLE STUDY FOR MARCH 1, THAT'S A SATURDAY, WHAT TIME WILL IT BEGIN? 6 P.M.? O.K. SURE I WILL PRAY THAT MANY WILL COME AS WE SEE THAT BIBLE STUDY IS GROWING. A GOOD LEADER IS ALWAYS PREPARED AND PLANNING AHEAD. WHAT WILL YOU TITLE THIS STUDY? AH! "TAKE NO THOUGHT FOR YOUR LIFE!" I WILL PASS THIS ANNOUNCEMENT TO AS MANY AS I SEE! GOD BLESS YOU LUKE, IT'S GREAT TO SEE YOU AGAIN!
"Study to show thyself approved unto God, A workman that needeth not to be ashamed, rightly dividing the word of truth." 2Timothy 2:15
TO ABBIE: GOOD MORNING ABBIE! HAVE YOU HEARD ABOUT THIS MONTH'S BIBLE STUDY ON SATURDAY? YES, MARCH 1ST AT 6P.M. THE STUDY IS CALLED, "TAKE NO THOUGHT FOR YOUR LIFE" O.K. PASS THIS INFO. ON TO OTHERS, THANK YOU! OH, NO, CONTRARY TO WHAT SOME THINK, THERE IS NO SECRET CODED MESSAGE IN CHRIST, HE IS STRAIGHT TO THE POINT, HE LOVES US, AND HE ALWAYS WILL! HE ALWAYS DESIRES GOOD THINGS TO COME TO US! HE REMEMBERS OUR INTIMATE TIMES WITH HIM JUST AS WE REMEMBER!
"For God so loved the world that He gave His only begotten Son, that whosoever believes in Him should not perish, but have everlasting life." John 3:16
"For the Lord God is a sun and a shield; The Lord will give grace and glory; No good thing will He withhold From those who walk uprightly." Psalm 84:11
TO JAMES: HEY JAMES HOW ARE YOU? DID YOU HERE ABOUT THE UPCOMING BIBLE STUDY? YES, IT'S TOMORROW THE 1ST AT 6P.M. CALLED "TAKE NO THOUGHT FOR YOUR LIFE." IF YOU SEE DEBRA PLEASE LET HER KNOW AND INVITE ALL THAT YOU CAN. THANK YOU! WELL, I'M NOT EXACTLY SURE, BUT I WOULD IMAGINE THE EMPHASIS WILL BE ABOUT WHAT WE THINK ABOUT AND HOW OUR THOUGHTS OUGHT TO BE DIRECTED TOWARDS HEAVEN MORE THAN HERE IN THIS WORLD. AT ANY RATE I AM SURE IT WILL BE GOOD!
"Therefore I say unto you, do not worry about your life, what you will eat, or what you will drink, nor about your body, what you will put on. Is not life more than food and the body more than clothing?" Mathew 6:25
MARCH
BIBLE STUDY GROUP: "TAKE NO THOUGHT FOR YOUR LIFE"
Present: Abbie, Luke, James, Debra, John, Susan, Mark.
OPENING PRAYER: (LUKE)
Thank you for coming to this months Bible Study, to begin with every month we will hold Bible Study, it is interactive so please feel free to contribute by asking questions, making comments, and adding your view point. The purpose of Bible Study is to grow in our faith and to become closer together as a group family.
Today's topic is worry and how not to worry about life. As we know the cares of this world, the deceitfulness of riches, and the lust of things entering into our life, competes with Jesus and his ways, seeking to choke the word of God, and make our faith to be weakened that we might turn away. We are never free from this threat. Money and the lack of it produces fears that oppose our faith, clothes, food, bills, etc often push to take the center stage of our life, when in fact it ought to be Jesus and the Kingdom of Heaven that remains our focus. "Take no thought for your life." Our relationship with Jesus and each other in Jesus ought to be the more important. Our minds and the worlds ways would say this is crazuness, yet they are screaming always for peace. Peace is having our mind stayed upon Jesus!
ABBIE: "HOW CAN WE IGNORE THESE TROUBLES, THIS IS OUR LIFE, WE ARE IN THIS WORLD AND ARE AFFECTED BY THESE THINGS EVERYDAY?"
It is true that we are in this world, and we are subjected to thse things as a part of life, but priority is arranged by choice. It is our choice to focus on what matters most, and what matters most is what we love most. Not that we are not thoughtful of our suuroundings, but rather that we commit these events and happenings unto Jesus, knowing that he cares for us. Whenever there is a competition for our hearts and minds we need to make sure that we put our relationship to Jesus first, as it is written: "BUT SEEK YE FIRST THE KINGDOM OF GOD, AND HIS RIGHTEOUSNESS; AND ALL THESE THINGS SHALL BE ADDED UNTO YOU." MATHEW 6:33 We see here that priority is the message in dealing with our lives. While the cares of our life act in force to be the nunber one priority and work to push aside Jesus and the Kingdom Of Heaven, we are instructed to put these cares behind him, and even more than that. We are to cast them unto him as we read: "CAST THY BURDEN UPON THE LORD, AND HE SHALL SUSTAIN THEE: HE SHALL NEVER SUFFER THE RIGHTEOUS TO BE MOVED." PSALM 55:22
SUSAN: WHAT YOUR SAYING IS WE MUST TRUST GOD TO HELP US THROUGH? SOMETIMES I TRUST GOD , BUT IT'S NOT AS EASY AS IT SOUNDS!
Thank you Susan, again it is true, this is not as easy as it sounds, in the beginning of our walk with Jesus we struggle to put our full confidence in his ability to help us, but as we hear his promises and we walk with him through this life, trusting him, then our faith/trust grows that is why he tells us: "TRUST IN THE LORD WITH ALL THINE HEART, AND LEAN NOT UNTO THINE OWN UNDERSTANDING. IN ALL THY WAYS ACKNOWLEDGE HIM, AND HE SHALL DIRECT THY PATHS." PROVERBS 3:5,6 We see here God promises to take care of us and to lead us. Furthermore, we are his, and since we are his we can reason that He has and investment in us, He gave His life for us that we may live! That is the greatest investment that any could ever give. So when we reason this out we see that these small issues of life, small in comparison to the Kingdom of Heaven, these cares that we care about, He knows and also cares about them so that we can trust that He will settle them. So a bit of reasoning and a firm stand on His promises will put to rest cares that desire to be the number one mountain in our life!
Jesus is all around us, fully involved in our life, he hovers over us as we seek His face. We must remember that He is near to us and not far away. In 2Chronicles 7:14 we read: "IF MY PEOPLE, WHICH ARE CALLED BY MY NAME, SHALL HUMBLE THEMSELVES, AND PRAY, AND SEEK MY FACE, AND TURN FROM THEIR WICKED WAYS; THEN WILL I HEAR FROM HEAVEN, AND WILL FORGIVE THEIR SIN, AND WILL HEAL THEIR LAND." Our problem with this is we fail to humble ourselves and seek His face!
MARK: WHY IS IT SO HARD FOR US TO SEEK HIM?
Ah! Now we are getting to the place where we can make a committed change, and vow to seek Him in prayer! This is sort of the "Hump" that we must scale! PRIORITY! This is a great question Mark. The reason it is hard for us to humble ourselves is because we lean to ourselves and our own understanding to solve our problems, sometimes knowing full well that we can't but ashamed to give it to God our pride will not let us let go! When we begin to let go, then we will find it easier to pray! When we understand that God wants to be involved and not put aside, then we will seek Him in faith, trusting Him for the solution. It is hard to seek him because we are too prideful to pray, too committed to ourselves to yeild to Him. When WE take no thought for our life." WE give all to Him. As it is written: "NO MAN CAN SERVE TWO MASTERS: FOR EITHER HE WILL HATE THE ONE, AND LOVE THE OTHER; OR ELSE HE WILL HOLD TO THE ONE, AND DESPISE THE OTHER. YE CANNOT SERVE GOD AND MAMMON." MATHEW 6:24
LUKE: SO JOSHUA'S QUESTION, "WHOM WILL YOU SERVE?" FROM JOSHUA 24:15 CALLS US ALL TO ANSWER THIS EVEN WHEN WE ARE CONFRONTED WITH THESE CARES THAT SEEK TO CHANGE OUR FOCUS?
Absolutely Luke, this is for sure the first thing that we all need to ask ourselves each day, in every situation, as Joshua 24:14-15 reads:
"NOW THEREFORE FEAR THE LORD, AND SERVE HIM IN SINCERITY AND IN TRUTH: AND PUT AWAY THE GODS WHICH YOUR FATHERS SERVED ON THE OTHER SIDE OF THE FLOOD, AND IN EGYPT; AND SERVE YE THE LORD. AND IF IT SEEM EVIL UNTO YOU TO SERVE THE LORD, CHOOSE YOU THIS DAY WHOM YE WILL SERVE; WHETHER THE GODS WHICH YOUR FATHERS SERVED THAT WERE ON THE OTHER SIDE OF THE FLOOD, OR THE GODS OF THE AMORITES, IN WHOSE LAND YE DWELL: BUT AS FOR ME AND MY HOUSE WE WILL SERVE THE LORD."
My friends the choice is ours everyday, no matter how seemingly great our situation is, God is greater! "Take no thought for your life" means understanding that God is greater!
"THEREFORE I SAY UNTO YOU, TAKE NO THOUGHT FOR YOUR LIFE, WHAT YE SHALL EAT, OR WHAT YE SHALL DRINK; NOR YET FOR YOUR BODY, WHAT YE SHALL PUT ON. IS NOT THE LIFE MORE THAN MEAT, AND THE BODY MORE THAN RAIMENT?" MATHEW 6:25
CLOSING PRAYER: (LUKE)
Thank you for coming, I encourage you all to continue this study, asking questions and searching the scriptures for answers! God bless you!
TO LUKE: GREAT JOB AT THE BIBLE STUDY SATURDAY, I CAN SEE IT IS GROWING! WHAT A BLESSING FOR US TO SEE THAT WE ALL PLAY A PART IN MAKING EACH OTHER BETTER. WELL, IN A WAY WE ALL ARE PREACHERS, ALL PEOPLE ATTEMPT TO MAKE PROSELYTES, BOTH SAVED OR UNSAVED, OFTEN INFRINGING UPON THE OTHERS BELIEFs, FOR EXAMPLE A CHRISTIAN MAY SOMETIMES TELL OTHERS ABOUT JESUS WHO CHOOSE NOT TO BELIEVE, DO NOT THINK THAT IT'S ONLY CHRISTIANS THAT MAKE CONVERTS, OTHERS MAY CHOOSE TO TELL CHRISTIANS OFFENSIVE THINGS THAT THEY WOULD RATHER NOT HEAR, SUCH AS CURSE WORDS OR EVEN LIES FROM OTHER GODS, ETC. OUR WORDS AND OUR ACTIONS DETERMINE WHO WE SERVE.
"But I say unto you, That every idle word that men shall speak, they shall give account thereof in the day of judgement." Mathew 12:36
"I have showed you all things, how that so laboring ye ought to support the weak. and to remember the words of the Lord Jesus, how he said, It is more blessed to give than to receive." Acts 20:35
THE FOCUS FOR MANY DURING TIMES OF TEMPTATION IS USUALLY WHAT THE DEVIL SAYS OR DOES, BUT OUR GOAL IS TO MOVE FROM WHAT HE SAYS OR DOES UNTO THE "AND JESUS ANSWERED" SOLUTION SO THAT WE CAN SEE HOW WE OUGHT TO RESPOND TO TEMPTATION INSTEAD OF FOCUSING ON THAN THE WAVES THAT ARE COMING AT US! WE ALL WILL BE TEMPTED, JUST AS JESUS WAS TEMPTED, BUT NOT ALL WILL RESPOND IN SUCH A WAY THAT LEADS TO VICTORY, AND THAT MY FRIEND IS SOMETHING THAT OUR ENEMY UNDERSTANDS ALSO, AND THEREFORE WILL CONTINUE TO BRING TEMPTATION TO US. HOW WE RESPOND IS WHAT OUR FOCUS SHOULD BE!
"And Jesus answered him, saying, It is written, That a man shall not live by bread alone, but by every word of God." Luke 4:4
"And Jesus answered and said unto him, Get thee behind me, Satan: for it is written, Thou shalt worship the Lord thy God, and Him only shalt thou serve." Luke 4:8
TO ABBIE: AS WE AGE TOGETHER FROM DAY TO DAY WE BEGIN TO TAKE MORE THOUGHT ABOUT LIFE HERE ON EARTH, AND SOON WE BEGIN TO THINK BEYOUND HERE ON EARTH UNTO THERE IN THE KINGDOM OF HEAVEN, WHERE WE WILL CELEBRATE EACH DAY WITH JESUS AT THIS LIFE BEYOND LIFE. IT IS CERTAINLY THE MOST AWESOME THING TO KNOW THAT WE HAVE LIFE AFTER THIS LIFE! IT IS CONSOLING TO OUR SOUL, HAVING THE THOUGHTS OF THIS LIFE, PRESENT IN THIS BODY, AND KNOWING THAT AT THE PASSING OF THIS LIFE WE WILL BE RECEIVED INTO THE LOVING ARMS OF JESUS TO LIVE WITH HIM FOR ETERNITY!
"For we know that if our earthly house of this tabernacle were dissolved, we have a building of God, a house not made with hands, eternal in the heavens." 2Corinthians 5:1
TO SUSAN AND ABBIE: HEY HOW ARE YOU BOTH DOING TODAY? OH I SEE, JUST OUT AND ABOUT TODAY? IT'S A BEAUTIFUL DAY! A DAY THE LORD HAS MADE WITH SO MUCH SUN! SO WHAT ARE YOUR PLANS TODAY? IT IS GOOD WHEN CHRISTIANS MAKE THEMSELVES AVAILABLE TO OTHERS, JUST LIVING THEIR LIVES AS AN EXAMPLE. SO THAT OTHERS CAN SEE JESUS IN US, AND THEN THEY ARE DRAWN TO ASK QUESTIONS, THIS IS THE AMAZING POWER OF THE HOLY SPIRIT WHERE JESUS DRAWS OTHERS TO HIM! IT IS GOOD TO SEE YOU BOTH, HAVE A BLESSED DAY TODAY!
"No man can come to me, except the Father which hath sent me draw him: and I will raise him up at the last day." John 6:44
"And I, if I be lifted up from the earth, will draw all men unto me." John 12:32
TO LUKE, JAMES, MARK, AND JOHN: MEN WE NEED EACH OTHER, AT THIS MEETING WE WILL DISCUSS WALKING WORTHY OF THE VOCATION WHEREWITH YE ARE CALLED! HOW? HOW IN TODAYS WORLD SHALL WE DO THIS? IN A WORLD FULL OF TEMPTATION, ALWAYS AT EVERY MOMENT, AND AT EVERY CORNER? WE KNOW THE ANSWER IS JESUS, YET HAVING THE ANSWER DOES NOT CAUSE US TO SUFFER LESS ATTACKS FROM OUR ENEMIES, IN FACT IT IS JUST THE OPPOSITE, WE WILL BE UNDER A GREATER INTENSITY OF WARFARE! ON EVERY SIDE, AT EVERY ANGLE, AND AT EVERY HOUR OF EVERY DAY, THE ENEMY IS PLOTTING HIS ATTACKS AGAINST US, THERE WILL BE DIRT, THERE WILL BE INJURIES, SOME WILL FALL DOWN, BUT THROUGH JESUS WE ARE CLEANSED FROM ALL UNRIGHTEOUSNESS, FORGIVEN OF ALL SINS, AND ENABLED TO RISE UP AGAIN AND WALK WORTHY OF THIS CALLING! JESUS' BLOOD WASHES OUR SINS AWAY! ONLY THROUGH JESUS CAN WE WALK WORTHY! IS THERE ONE THAT HAS FALLEN? HELP HIM UP! IS THERE ONE THAT IS SPOTTED? WASH HIS FEET! IS THERE ONE THAT HAS COMMITTED SIN? SHOW HIM TO THE CROSS OF JESUS WHERE THE FORGIVENESS OF SIN BEGAN! LAY DOWN THE STONES OF THE LAW AND EXTEND OUT A HAND OF GRACE!
"I therefore, the prisoner of the Lord, beseech you that ye walk worthy of the vocation wherewith ye are called. With all lowliness and meekness, with longsuffering, forbearing one another in love." Ephesians 4:1,2
"If ye confess our sins, he is faithful and just to forgive us our sins, and to cleanse us from all unrighteousness." 1John 1:9
TO ABBIE: WOW, WHAT A GREAT QUESTION ABBIE, DUE BENEVOLENCE, I CAN'T SAY ENOUGH ABOUT THIS, ON ALL SIDES OF OUR RELATIONSHIPS THIS MUST BE OUR PRIORITY. WHAT IS DUE BENEVOLENCE? SIMPLY PUT IT IS KINDNESS. SO MUCH OF GOD'S TREASURE IS FOUND IN THIS. KINDNESS, SPEAKING TO OTHERS WITH A SOFT WORD OF LOVE, WITH A POURING OUT OF THE HEART, AND WITH THE INTENT OF LIFTING THEM UP. THIS IS DUE BENEVOLENCE, AND BOTH HUSBANDS AND WIVES ARE INSTRUCTED TO LIVE ACCORDING TO THIS.
"Let the husband render unto the wife due benevolence: and likewise also the wife unto the husband." 1 Corinthians 7:3
"Submitting yourselves one to another in the fear of God. Wives, submit yourselves unto your own husbands, as unto the Lord. "
"Husbands, love your wives, even as Christ also loved the church, and gave himself for it."
Ephesians 5:21-33
TO LUKE: HEY LUKE HOW ARE YOU TODAY? IT'S SUCH A GREAT DAY! CERTAINLY WE ARE BLESSED IN SO MANY WAYS TO INCLUDE FELLOWSHIP! TO BE AMONGST LIKE-MINDED SOULS THAT LOVE JESUS AS WE DO, TO BE ABLE TO DISCUSS THE EVENTS OF OUR WEEK TOGETHER, AND TO PRAY FOR ONE ANOTHER, LIFTING UP EACH OTHER IN THE FAITH, AS WE KNOW THAT IRON SHARPENS IRON, WE ALL NEED TO BE SHARPENED IN THE FAITH ALSO. THANK YOU FOR WHAT YOU DO IN JESUS NAME!
"That which we have seen and heard declare we unto you, that ye also may have fellowship with us: and truly our fellowship is with the Father, and with His Son Jesus Christ. But if we walk in the light, as He is in the light, we have fellowship one with another, and the blood of Jesus Christ His Son cleanses us from all sin." 1John 1:3,7
TO DEBRA: AH! THE UNSAVED LOVED ONE. MOST PEOPLE HAVE SOMEONE THAT THEY KNOW THAT IS NOT SAVED, MANY OF THEM ARE IN THEIR OWN FAMILY! IT IS ALSO TRUE THAT MOST DO NOT KNOW WHAT TO SAY TO THEM OR HOW TO SHERE WITH THEM THE LOVE OF JESUS. THE SIMPLICITY IS IN TELLING THEM THE WORDS OF GOD. ALTHOUGH IT MAY BE UNWANTED, INCONVENIENT, OR INTRUSIVE TO THEM, THERE ARE WAYS TO MAKE THIS BETTER. KEEPING IT SIMPLE AND SHOWING THEM GOD THROUGH LOVING ACTIONS.
"And they said, Believe on the Lord Jesus Christ, and thou shalt be saved, and thy house." Acts 16:31
"Who shall tell thee words, whereby thou and all thy house shall be saved." Acts 11:14
TO LUKE, JAMES, MARK, AND JOHN:
AND THE BANNER READ,
***************************************GOLDEN NUGGET*****************************
***************************************GOLDEN NUGGET*****************************
Q. WHY DO I CONTINUE TO SIN OVER AND OVER AGAIN? ASKING FORGIVENESS EACH TIME, IS FORGIVENESS RECIEVED? AND SINCE FORGIVENESS IS RECEIVED, "THE HOW TO" NOT SIN AGAIN IS NOT SOLVED. "SINS" ARE FORGIVEN, BUT "SIN" STILL REMAINS!
A. FOLLOW ALONG HERE AND POCKET THESE NUGGETS!!!!
1. GOD FORGIVES SIN
WE MUST REMEMBER THESE: THAT GOD WILL FORGIVE US OUR SINS AND CLEANSE US FROM ALL UNRIGHTEOUSNES, THIS IS STEP ONE, 1JOHN 1:9 AS FOLLOWS:
"IF WE CONFESS OUR SINS, HE IS FAITHFUL AND JUST TO FORGIVE US OUR SIN, AND TO CLEANSE US FROM ALL UNRIGHTEOUSNESS."
2. GOD WILL NOT LEAD US INTO TEMPTATION, BUT INSTEAD WILL DELIVER US OUT OF TEMPTATION. THIS IS STEP TWO, JAMES 1:13,14 AS FOLLOWS:
"LET NO MAN SAY WHEN HE IS TEMPTED, I AM TEMPTED OF GOD: FOR GOD CANNOT BE TEMPTED WITH EVIL, NEITHER TEMPTETH HE ANY MAN: BUT EVERY MAN IS TEMPTED, WHEN HE IS DRAWN AWAY OF HIS OWN LUST, AND ENTICED.
3. GOD WILL DELIVER US FROM EVIL (SIN)
GOD KNOWS "THE HOW TO" DELIVER THE GODLY FROM ALL TEMPTATION. THIS IS STEP THREE, IIPETER 2:9 AS FOLLOWS:
"THE LORD KNOWETH HOW TO DELIVER THE GODLY OUT OF TEMPTATIONS," IIPETER 2:9A
*************SEE HERE THERE ARE THREE REQUEST WITHIN THE LORD'S PRAYER.**********
"OUR FATHER WHICH ART IN HEAVEN, HALLOWED BE THY NAME. THY KINGDOM COME. THY WILL BE DONE IN EARTH, AS IT IS IN HEAVEN. GIVE US THIS DAY OUR DAILY BREAD. 1. AND FORGIVE US OUR DEBTS, AS WE FORGIVE OUR DEBTORS. 2. AND LEAD US NOT INTO TEMPTAION, 3. BUT DELIVER US FROM EVIL: FOR THINE IS THE KINGDOM, AND THE POWER, AND THE GLORY, FOREVER. AMEN." MATHEW 6:9-12
AGAIN THESE THREE REQUESTS:
FORGIVENESS-WASHING, LEAD US-CREATING A NEW HEART, AND DELIVERANCE - ESCAPING
1. "FATHER FORGIVE US OUR "SINS" ***PLURAL***
2. "LEAD US NOT TO TEMPTATION"
3. "DELIVER US FROM EVIL "SIN" ***SINGULAR***
********************************************GOLDEN NUGGET*******************************
********************************************GOLDEN NUGGET*******************************
APRIL
The A&L Study Group:
Ladies and gentlemen, welcome to study group, as we all know we are dealing daily with a spiritual battle, a warfare. So we are presented with a challenge to ready ourselves for this battle. Not to worry, Jesus, our God is right there with us, as we read,
SKILL FOR THE BATTLE!
"Praise the Lord, who is my rock. He trains my hands for war, and gives my fingers skill for battle." Psalm 144:1
Friends we need nutrients fit for consumption! In the same way that a healthy diet prepares us for the challenge of the work ahead of us. We will begin our day with praise, a healthy diet includes praise and worship, this makes us strong and confident, knowing that our strength is in him. God also teaches us in his word how to do battle, how to win! It is one thing to claim victory in Jesus, since we know that he has already won the battle for us, but it is an entirely different thing to walk in that victory each day. Verbally we confess and even shout, "There is Victory in Jesus!" while too often despite their confession, many Christians are cast down, depressed, and walk around as though they are defeated and ready to quit, that is not living the way that Jesus intended for us to live. For this reason, knowing that we often give lip service to God, Jesus trains us and prepares to actually live as victors of this spiritual life in Him. Yes it is true there is victory in Jesus, but there is also a war! Notice in our preparation for this war we will begin with praise unto the Lord, and an acknowledgement of who God is in our life, "Praise the Lord who is my rock." Exactly who is God in your life? So we must establish this and confess thsi before the world!This is the first step to victory! This is also the beginning of all spiritual warfare. I say this because, well, remember that when we didn't know who God was, the devil left us alone, we were no threat to him, there was no war because there was no threat! Now that we know who God is and what God is capable of doing, the power that he has made available unto us through Jesus and prayer, the war for our soul has begun. Our enemy daily dispatches his emissaries to launch campaigns of war against us. His desire is to steal, kill, and destroy us, as we read, "For the thief cometh not, but for to steal, and to kill, and to destroy." John 10:10 a Knowing this is the beginning of us walking in victory and not merely confessing it. (TO BE CONTINUED...)
http://souls-for-christ.com/id11.html
The A&L Study Group:
Welcome back friends, yesterday we were at the start of discussing being ready for this spiritual battle that we are engaged in. Now we must allow Jesus to train us for this, and he is always calling us to train, as we have read,
"Praise the Lord, who is my rock. He trains my hands for war and gives my fingers skill for battle." Psalm 144:1
SKILL FOR THE BATTLE! (Continued...)
Yesterday we left off by reading and understanding John 10:10, "For the thief cometh not, but for to steal, and to kill, and to destroy." Knowing and understanding this will help us to know who and what we are up against. This is why Jesus trains us, if we were left alone with no training we would be left for a slaughter. This is why we need Jesus and this is why we are trained as we have read, "He trains my hands for war and gives my fingers skill for the battle." God will train us when we submit ourselves to His training camp. If we allow our lives to be lukewarm or below God's standard, then we are saying that we are willing to tolerate sin and Satan in our lives, but as soon as we are "sick and tired of our enemy", as soon as we say, "Enough!" "No more will I walk in shame, No more will God's victory be stolen from me, and No more will my head hand low in defeat!" When we had enough, and decide to submit ourselves to God's training camp, God begins to train our hands, our fingers, and our lives for this battle. Notice here how God trains our hands and our fingers. Why not our heart also? First, we should not desire war with any, save our enemy, these principalities, powers, and rulers of the darkness. Now to some it might seem unfathomable that we serve a God that recognizes that to do battle with our adversary we must incorporate wisdom over compassion, and skill over force. We are called to be as wise as serpents and as gentle as doves. "Behold I send you forth as sheep in the midst of wolves: be ye therefore wise as serpents, and harmless as doves." Mathew 10:16 In battle our heart of compassion and mercy often must give way to wisdom and skill. Let's face it war is not pretty, nor is it nice! In the same way, the devil is not nice to us, he wants our soul! Therefore there is no place for being nice to him! God forbid if we should ever be nice to the devil! This war! When our enemy desires to sift our soul, he is not going to come and ask you nicely! "Can I take your soul with me?" No, he is going to be sneaky and vicious, knowing that if he is ever exposed that will be the end of him. This is war, and nothing short of war, and we need to be awakened to his tactics and how they may be used against us. One of the first and most important steps to defeating the devil is to acknowledge that he is, and why he is, and what he wants to do. We cannot refuse to engage in this battle, this is not an option, if we are to endure to the end and be saved. Yes, we are victorious in Jesus, now we must live, and move, and have our being in this victory! We must keep his commands and follow his truth! (TO BE CONTINUED...)
http://souls-for-christ.com/id11.html
TO ABBIE: HI ABBIE, IT'S BEEN QUITE SOME TIME SINCE WE LAST SPOKE. BUSY FOR SURE! THANK YOU FOR YOUR QUESTIONS OF THIS PRECIOUS MATTER, "THE BLOOD OF JESUS", WE OUGHT ALWAYS TO POINT ALL TO THE BLOOD OF JESUS THAT HAS BEEN SPILLED FOR THE SIN OF THE WORLD. ABBIE WE ALL HAVE SINNED AND FALLEN SHORT OF GOD'S GLORY, AND FOR SURE THE ACCUSER OF THE BRETHREN AWAITS WITH A FEROCIOUS EAGERNESS TO POINT HIS FINGER AT US AND CONDEMN, BUT WHEN THIS HAPPENS OUR RESPONSE SHOULD POINT TO THE BLOOD OF JESUS! THE BLOOD OF JESUS WASHES AWAY ALL OUR SIN, AND CRUSHES TO PEICES ALL HIS EFFORTS TO ACCUSE! BECAUSE OF JESUS AND HIS SHED BLOOD WE HAVE FREEDOM FROM ALL CONDEMNATION! WITHOUT THIS WE SHALL ALL BE CONDEMNED FOR A MYRIAD OF SINS!
"And I heard a loud voice saying in heaven, Now is come salvation, and strength, and the Kingdom of our God, and the power of Christ: for the accuser of our brethren is cast down, which accused them before our God day and night." Revelation 12:10
"For all have sinned and come short of the glory of God." Romans 3:23
"But if we walk in the light, as He is in the light, we have fellowship one with another, and the blood of Jesus Christ His Son cleanseth us from all sin." 1John 1:7
TO LUKE: HEY LUKE HOW ARE YOU? YEA, IT WAS AMAZING! THE SITE OF A BLOOD MOON HAS US ALL ASKING SO MANY QUESTIONS, QUESTIONS LIKE WHAT IS A BLOOD MOON, OR IS A BLOOD MOON A SIGN FROM HEAVEN? WE CAN ONLY START WITH SOME FACTS AND ADD TO THEM OUR FAITH, THE FACT IS GOD USES BLOOD MOONS, WHICH BY THE WAY ARE RARE, HE USES THEM TO COMMUNICATE AN UPCOMING EVENT. I BELIEVE THIS IS NOT THE SIGN OF THE END OF THE WORLD, BUT RATHER A SIGN TO ISRAEL TELLING US TO PREPARE. AS IT HAS BEEN THAT ISRAEL HAS HAD A FEW CHANGES SUCH AS BECOMING A NATION AFTER A BLOOD MOON PRESENTED ITSELF. IT IS INTERESTING HOW THIS YEAR IT CAME RIGHT BEFORE PASSOVER. AS WE KNOW THAT THE PASSOVER WAS MARKED BY THE PLACING OF BLOOD ON THE DOOR POST IN EXODUS 12. IT IS TRUE THAT IN THE LAST DAYS THE MOON WILL BE TURNED TO BLOOD, BUT THE SUN WILL ALSO BE TURNED TO DARKNESS. AS IT IS RIGHT NOW, THE MOON IS STILL BEING USED BY GOD TO TALK TO HIS PEOPLE, AND HIS PEOPLE ARE LISTENING. THE NEXT ONE MAY BE AGAIN THIS YEAR IN NOVEMBER!
"And the blood shall be to you for a token upon the houses where ye are: and when I see the blood, I will pass over you, and the plague shall not be upon you to destroy you, when I smite the land of Egypt." Exodus 12:13
"The sun shall be turned into darkness, and the moon into blood, before the great and terrible day of the Lord come." Joel 2:31
TO THE A&L BIBLE STUDY GROUP: EASTER AND THE MOST IMPORTANT POWER TO KNOW!
GOOD MORNING TO ALL, AS WE KNOW EASTER IS NEAR, AND IT HAS BEEN SAID THAT EASTER IS COMMERCIAL AND OVER MARKETED FOR THE SAKE OF MONEY, AND THERE ARE SOME THAT WOULD RATHER EASTER DISSAPPEAR, BUT IT IS FOR CHRISTIANS THE MOST IMPORTANT TIME IN LIFE! IF EASTER WOULD EVER BE TAKEN AWAY SO THEN WOULD THE RESURRECTION OF CHRIST JESUS OUR LORD, THE POWER OF HIS MERCY AND GRACE, AND ANY SINNERS CHANCE FOR A NEW LIFE! WE OUGHT TO DO ALL TO KNOW THIS POWER, THIS POWER OF THE RESURRECTION! THIS POWER, GOD'S POWER TO RAISE HIS SON, EVEN JESUS CHRIST OUR LORD FROM THE DEAD, IS THE POWER THAT WE CLING TO, THAT WE HOPE FOR IN OUR LIVES, THAT WE MIGHT SEE THIS POWER IN OUR LIFE TURNING US FROM AN UNWANTED SINNER UNTO A BELOVED CHILD OF GOD. OF COURSE WE CAN ALL IMAGINE WHY OUR ENEMIES WOULD NOT WANT US TO KNOW OR TO HAVE THIS POWER IN OUR LIFE. IT IS BY THIS POWER THAT ACCUSATIONS OF THE ENEMY IS DESTROYED, IT IS BY THIS POWER THAT WE ENTER INTO A SAVED RELATIONSHIP WITH GOD OUR FATHER, IT IS BY THIS POWER THAT WE ARE CLEANSED AND MADE NEW, AND IT IS BY THIS POWER THAT THE DEVIL IS FINALLY DEFEATED! HOW MUSCH SHOULD BE SAID ABOUT EASTER? THE TALK OF EASTER SHOULD BE ENDLESS UPON OUR LIPS, AS WE KNOW THAT FAITH COMETH BY HEARING AND THE HEARING OF THE WORD OF GOD. JESUS IS THE RESURRECTION, AND THE LIFE! ANY AND ALL WHO BELIEVE IN HIM ALTHOUGH HE WERE DEAD, YET SHALL THEY LIVE! THIS POWER CONNECTS US! EASTER CONNECTS US TO GOD THROUGH JESUS AND HIS CROSS OF CRUCIFIXION, AND THEN THROUGH HIS BURIAL AND RESURRECTION. FIRST IT IS THE POWER THAT HE HAD TO ENDURE THE CROSS THAT WE ALL NEED, THEN IT IS HIS POWER TO DIE UPON THE CROSS AND TO BE BURIED AS INSIGNIFICANT AND SEEMINGLY DEFEATED, AND FINALLY IT IS HIS POWER TO BE RAISED AGAIN FROM THE TOMB TO LIVE AGAIN IN VICTORY! HE IS ALIVE!!! THE MOST IMPORTANT THING THAT WE NEED IS THIS POWER, GOD'S POWER IN OUR LIFE! THIS SAME POWER THAT ENABLES US TO CARRY OUR CROSS, THAT ENABLES US TO LOSE ALL PRIDE AND BECOME SIMPLE AND DIE TO OURSELVES, AND THE POWER THAT ENEABLES US TO BE RAISED AGAIN ANEW! a NEW CREATURE WITH A NEW LIFE! ON EASTER WE LEARN OF THIS POWER AND WE LEARN OF OUR NEED TO WELCOME THIS POWER INTO OUR HEART, MIND, AND SOUL THROUGH THE KNOWLEDGE OF JESUS AND ALL THAT HE HAS ENDURED FOR OUR SAKES. RECENTLY IT WAS SAID BY AN UNBELIEVEING ATHIEST GROUG, "NO ONE DIED FOR OUR SINS" BY THIS, THEY HAVE SECURED THEIR FATE, A FATE IN WHICH CAN NEVER BE OVERTURNED, FOR WITHOUT THE FORGIVENESS OF SIN, WITHOUT THE ACCEPTANCE OF THAT FORGIVENESS THROUGH JESUS SHED BLOOD, THERE IS NO WAY FOR THEM TO KNOW THE BENEFITS OF REPENTANCE. THEY THEMSELVES OPENLY CRUCIFY JESUS, MAKING THE BLOOD OF JESUS OF NO EFFECT! THROUGH JESUS WE ARE SEALED AND WILL ENTER HIS REST, AND WITHOUT JESUS THEY ALSO ARE SEALED, BUT WILL ENTER THAT PLACE WHERE THERE SHALL NEVER BE REST.
"And concerning his Son Jesus Christ our Lord, which was made to be the seed of David according to the flesh; and decalered to be the Son of God with power, according to the spirit of holiness, by the resurrection from the dead:" Romans 1:3,4
"Know ye not, that so many of us as were baptized into Jesus Christ were baptized into his death? Therefore we are buried with him by baptism into death: that like as Christ was raised up from the dead by the glory of the Father, even so we also should walk in newness of life." Romans 6:3,4
"Jesus said unto here, I am the resurrection and the life: he that believeth in me, though he were dead, yet shall he live: And whosoever liveth and believeth in me shall never die. Believest thou this? John 11:25,26
MAY
TO THE A&L BIBLE STUDY GROUP: Abbie, Luke, James, Debra, John, Susan, Kim, Mark
THE BEAUTY, THE BEAST, AND HUMILITY
"When thou art bidden of any man to a wedding, sit not down in the highest room; lest a more honorable man than thou be bidden of him; and he that bade thee and him come and say to thee, give this man place, and thou begin with shame to take the lowest room. But when thou art bidden, go and sit in the lowest room; that when he bade thee cometh, he may say unto thee, Friend go up higher, then shalt thou have worship in the presence of them that sit at meat with thee. For whosoever exalts himself shall be abased; and he that humbleth himself shall be exalted." Luke 14: 8-11
Friend we can learn so much from God and thereby suffer so little. God knows mankind and his propensity to desire a better place, a greater advantage, or a moving at their own way rather than follow wisdom from God. Oh the pains we bear when we leave God over there, and fail to keep his wisdom near! Pride motivates the ignorant to move themselves to places that they have not been invited to. By this they invite themselves at great risk, assuming that this place is meant for them they move without invite only to suffer the humiliation and the coming heartbreak that rejection has waiting for them, as we read, "He who exalts himself shall be abased, and he that humbles himself shall be exalted." Luke 14:11 For example, if a man should take an interest in a woman, however uncommon, virtuous, beautiful, and wise she may be, if he is not invited and attempts to make a place with her, exalting himself assuming that he is invited, he will suffer greatly at that point of rejection. He has not been invited and therefore will learn by shame and rejection. This will weigh heavy on his heart, and for this cause God issues this notice in the hope that the wise will guard their heart. Perhaps it is a promotion that they desire, or to be accepted by the group, it is the same. Humble yourself and you will be called up without rejection and heartache. Through God we learn humility. When we are gathered together in a group we are to be careful where we place ourselves. Rather than placing ourselves at the front or at the highest positions, allow others to place, to ask you by invite to take that place. Now this may seem contrary to the idea of going after your desire, as we know that Jesus also teaches us to Ask, Seek, and Knock. Still we are not to throw out discretion and wisdom, stealth and planning, as they are meant to protect us and to guard our heart from the pains of rejection. If so, these will be thrown into the wind at our own demise. If we wait on God, if we follow his teachings, if we keep his commands, and if we humble ourselves and pray, then we shall see our desire. Then we will be exalted to that place by others and not asked to move aside or to return in shame to that former place. Remember dear friend, God is in control, and the beast sometimes gets the beauty, but only when he shall follow God's way! God's instructions to us are given to protect our heart, he will not withhold any good thing from us, as it is written, "For the Lord God is a sun and a shield: the Lord will give grace and glory: no good thing will he withhold from them that walk uprightly." Psalm 84:11 God always protects his children from harm! He always considers what is the best for us. So as we read, "If my people who are called by my name, shall humble themselves and pray, and seek my face, and turn from their wicked ways; then will I hear from heaven, and will forgive their sin, and will heal their land"
2 Chronicles 7:14
Take the lower seat, and allow God to call you up!
http://souls-for-christ.com/id11.html
TO ABBIE: MY DEAREST FRIEND, IT HAS BEEN SOME TIME SINCE WE LAST WROTE, I DO APOLOGIZE. AS A CHILD WE PLAYED GAMES AND SOME OF THOSE GAMES WERE NOT AS FUN AS SOME OTHERS, ESPECIALLY ONE IN PARTICULAR, I CAN REMEMBER WHEN SOMEONE WOULD SAY SOMETHING AND THE OTHER WOULD REPEAT IT BACK TO THEM UNTIL IT BECAME ANNOYING, AND UNTIL WE WOULD SHOUT, "STOP IMITATING ME!" WELL I THANK GOD THAT HE NEVER SAYS THIS, IN FACT HE IS JUST THE APPOSITE AND DESIRES THAT WE ARE ALWAYS IMITATORS OF HIM! GOD WANTS US TO WALK IN LOVE JUST AS HE DOES TOWARDS US, IN THIS CASE IT IS ALWAYS GOOD TO BE AN IMITATOR!
"Therefore be imitators of God as dear children. And walk in love, as Christ also has loved us and given himself for us, an offering and a sacrifice to God for a sweet smelling aroma." Ephesians 5:1
TO LUKE: HEY LUKE HOW ARE YOU? I WROTE ABBIE YESTERDAY, SORRY I HAVEN'T BEEN ABLE TO WRITE FOR A WHILE I HOPE ALL IS WELL. YEA, YOU KNOW WHEN WE CONSIDER JESUS IT MAKES OUR LIVES MUCH MORE EASY TO LIVE. WHEN SOMETIMES OUR LIFE IS DIFFICULT IF WE LOOK TO JESUS AND CONSIDER ALL THAT HE ENDURED WE THEN SEEM TO GAIN THE STRENGTH AND PERSPECTIVE THAT IS NEEDED TO GET THROUGH. ALL THAT JESUS HAS DONE FOR US MAKES OUR HEART BECOME SO APPRECIATIVE. WE OWE HIM SO MUCH, YET HE ASKS FOR SO LITTLE! HOW GREAT IS OUR GOD? HE IS SO GOOD TO US!
"He was despised and rejected by men, A man of sorrows and acquainted with grief. And we hid, as it were, our faces from him; He was despised, and we did not esteem Him. Surely He has borne our griefs and carried our sorrows; Yet we esteemed Him stricken, smitten by God, and afflicted. He was wounded for our discretions, He was bruised for our iniquities; the chastisement for our peace was upon Him, and by His stripes we are healed. Isaiah 53:3-5
TO DEBRA: HI DEBRA HOW ARE YOU? HOW'S THE NEW JOB GOING? I AM GLAD TO SEE THAT YOUR FAITH BROUGHT YOU THE JOB WE WERE PRAYING FOR. HAVING FAITH IN GOD ALWAYS PREVAILS AND REMOVES ALL WORRY AND FEAR! WELL, TYPING IS NOT A BETTER ONE OF MY SKILLS! FAITH OVER FEAR! IT'S SAD TO SEE SUCH TERRIBLE EVENTS, JOBLESS TIMES, HOMELESS, SICKNESS AND DISEASE, ALL SO CLOSE TO HOME. I BELIEVE IT WAS PRESIDENT ROOSEVELT THAT SAID, "WE HAVE NOTHING TO FEAR BUT FEAR ITSELF" HE WAS WISE TO SAY THAT DURING THOSE TIMES OF THE GREAT DEPRESSION. FEAR IS ALWAYS OUR ENEMY AND THE GREATEST OPPONENT TO FAITH, THESE DAYS FEAR SEEMS TO HAVE THE UPPER HAND AND IS TURNING THE WORLD UPSIDE DOWN, BUT JESUS HAS SO MANY TIMES TOLD US, "FEAR NOT"
"Fear thou not; for I am with thee: be not dismayed; for I am thy God: I will strengthen thee; yea, I will help thee; yea, I will uphold thee with the right hand of my righteousness." Isaiah 41:10
"Fear not, little flock; for it is your Father's good pleasure to give you the kingdom." Luke 12:32
TO JAMES: HI JAMES, YES, MOVING FORWARD MEANS WE MUST COME OFF OF PAUSE, YET PAUSE IS SOMETIMES A NICE PLACE FOR RENEWAL/REFRESHING. IN THE SHADOW OF HIS WINGS WE FIND REST AND WE LEARN THERE THAT HE DOES THE WORK, WHILE WE LOOK TO HIM FOR GUIDANCE WE ARE COMFORTED BY HIS LOVE. JESUS IS SUCH A WONDERFUL FRIEND! HE WALKS WITH US AND TALKS TO US AND KEEPS US THROUGH IT ALL! PRAISE FROM OUR LIPS AND GLORY TO HIS NAME. WAIT ON THE LORD MY FRIEND AND HE WILL SHOW YOU THE WAY!
"Because you have been my help, Therefore in the shadow of your wings I will rejoice. My soul follows close behind You; Your right hand upholds me." Psalm 63:7,8
JUNE
TO ABBIE: HELLO ABBIE, YOUR QUESTION IS VERY DEEP! I LOVE QUESTIONS LIKE THIS, BECAUSE THE ANSWER CAN GO ON FOREVER! WHAT IS JESUS LIKE YOU ASK? WOW! TWO WORDS THAT GIVE US THE SHORT ANSWER, YET HE IS SO MUCH MORE: MERCY AND TRUTH. IF I WERE TO ANSWER THIS WITH JUST TWO WORDS, THESE TWO WORDS WOULD BE MY CHOICE. JESUS IS MERCY FOR ALL WHO COME TO HIM SEEKING FORGIVENESS THERE IS FORGIVENESS IN HIM AND MERCY BEYOND OUR UNDERSTANDING, HE IS FOREVER MERCIFUL, AND JESUS IS TRUTH, FOR ALL WHO WANT TO KNOW THE TRUTH ABOUT LIFE HERE AND LIFE HEREAFTER, JESUS HOLDS THE TRUTH AND WILLINGLY SHARES IT WITH ALL. SO WHAT IS JESUS LIKE? HIS CHARACTER IS MERCIFUL AND COMPLETE TRUTH!
"Let not mercy and truth forsake you; Bind them around your neck, Write them on the tablet of your heart, And so find favor and high esteem in the sight of God and man." Proverbs 3:3,4
"For the Lord is good; His mercy is everlasting, And His truth endures to all generations." Psalm 100:5
TO DEBRA AND JOHN: HEY! HOW ARE YOU? IT IS SO TRUE, TIME CERTAINLY PASSES US BY AND BEFORE WE KNOW IT, OR EVEN TAKE TIME TO THINK ON IT, THE TIME IS HERE. I THANK GOD THAT HE HAS MADE PROVISION FOR US KNOWING HOW WE MIGHT NOT SLOW DOWN SOMETIMES LONG ENOUGH TO CONSIDER EXACTLY WHAT TIME IT IS! I ALSO THANK GOD THAT BEFORE TIME EVEN BEGAN HE SAVED US IN CHRIST JESUS, AND CALLED US TO SERVE HIM, NOW THIS MIGHT SOUND A BIT LIKE PREDESTINATION, AND IT'S NOT EXACTLY LIKE WE WOULD SAY YES AND AGREE, BUT GOD MADE THE WAY FOR US TO BE SAVED KNOWING THAT WE RARELY THINK ON WHAT TIME IT IS, AND THAT WE MIGHT WAIT UNTO THE LAST MINUTE BEFORE WE MADE A COMMITMENT TO ACCEPT HIM, EVEN SO THE LAST MINUTE IS NOT TOO LATE TO DECIDE TO ASK JESUS INTO OUR HEART! WHEN TALKING ABOUT TIME, WHO CAN TELL THE BEGINNING OF IT AND THE END OF IT? IT IS SO IMPORTANT THAT WE CONSIDER TIME.
"Who has saved us and called us with a holy calling, not according to our works, but according to His own purpose and grace which was given to us in Christ Jesus before time began." 2Timothy 1:9
TO LUKE: HI LUKE, FATHER'S DAY IS A WONDERFUL DAY WHERE WE CAN SEE THE STRONG TIE OF FAMILY AS IT IS KEPT TOGETHER BY THE GENERATIONS, FROM CHILDREN UNTO FATHERS AND MOTHERS, AND THEN UNTO GRANDPARENTS. WE KNOW THAT GRANDPARENTS ADORE THEIR GRANDCHILDREN AND CHILDREN ADORE THEIR PARENTS. IT IS GOOD TO HAVE DAYS SUCH AS THIS, AND WHAT A FATHER WE HAVE IN JESUS. OUR ADORATION IS EXPRESSED TOWARDS HIM RECOGNIZING HIM TODAY AS OUR FATHER WHO IS IN HEAVEN! LUKE WE ARE SO BLESSED TO HAVE OUR FATHERS WITH US, BOTH HERE ON EARTH, AND IN HEAVEN! HAPPY FATHER'S DAY!
"Children's children are the crown of old men, And the glory of children is their father." Proverbs 17:6
"In this manner therfore pray: Our Father who art in heaven, Hallowed be thy name. Your kingdom come, your will be done On earth as it is in heaven." Mathew 6:9,10
TO THE A&L BIBLE STUDY GROUP: ON RESTORATION
GOOD MORNING FRIENDS. WHEN CONSIDERING THE NAME OF JESUS AND HOW JESUS IS VIEWED IN TODAYS WORLD WE MUST CONSIDER OUR ROLES AS AMBASSADORS FOR CHRIST. TODAY WE WILL LOOK TO OUR FRIEND NEHEMIAH FOR HIS HEART DRIVEN RESPONSE TO THIS CONCERN FOR HOW THE LORD'S NAME AND CHRISTIANS OVERALL, WERE BEING PORTRAYED IN THE LAND. NEHEMIAH WAS CONCERNED THAT THE LORD'S NAME WAS NOT BEING ESTEEMED AS IT SHOULD HAVE BEEN, BECAUSE HIS CITY, JERUSALEM; WAS IN RUINS. THIS LEADS US TO ASK OURSELVES THE FOLLOWING QUESTIONS, "IS OUR CITY IN RUINS?" "IS ANY PART OF OUR LIFE IN RUINS?" AS CHRISTIANS, WHO WE ARE, WHERE WE LIVE, AND HOW WE LIVE ARE ALL UNDER CONTINUAL SCRUTINY, IF ANY OF THESE LIE IN RUIN OUR HEART SHOULD BE SADDENED, BECAUSE OUR REPRESENTATION OF JESUS, AND OUR POSITION AS AMBASSADORS HAS BECOME SUSPECT. LET'S FACE IT, WE ALL STRUGGLE SOMETIMES, WE ALL FALL SHORT AND ARE NOT UP TO PAR SO TO SPEAK, BUT IT IS UPON US TO RECOGNISE THIS AND TAKE MEASURES TO REESTABLISH WHAT AREA(S) THAT ARE IN DISREPAIR. HERE WE SEE NEHEMIAH WHOSE HEART WAS HEAVY BECAUSE OF THE STATE OF DISREPAIR THAT JERUSALEM WAS IN, AND NOW HE KNOWS WHAT MUST BE DONE. A PLAN OF ACTION WAS FORMED AND SET IN MOTION. FRIENDS THIS IS WHAT WE ALSO MUST COMMIT TO. LET US REVIEW OUR LIVES, OUR AFFAIRS IN LIFE, WHERE WE STAND, WHAT WE DO, AND HOW WE RESPRESENT JESUS. NOW LET US SET IN MOTION A PLAN OF ACTION THAT WILL REESTABLISH, 1. WHO JESUS IS TO US AND WHO WE ARE TO HIM. 2. WHAT AREAS NEED RECONSTRUCTED, AND WHERE TO BEGIN. AND, 3. WHAT SUPPLIES, WHAT TIME, AND WHAT STEPS MUST WE TAKE, AND IN WHAT ORDER WE WILL TAKE THEM, IN OUR EFFORT TO REBUILD AND RESTORE ALL THAT HAS FALLEN SHORT OF GOD'S GLORY. LET NOTHING DISTRACT US FROM THIS! ARE THERE THINGS IN YOUR LIFE THAT HAS TAKEN YOU AWAY FROM SPENDING TIME WITH GOD IN PRAYER, THIS IS TRUE FOR ME, LATELY I HAVE SPENT WAY TOO MUCH TIME WATCHING T.V. NOW I MUST TAKE ACTION TO SET THIS RIGHT! WHAT ABOUT CHURCH, OR THE GATHERING TOGETHER OF THE SAINTS, ARE YOU SLACKING HERE AND FEELING THE EFFECTS OF NOT HAVING FELLOWSHIP? WHAT ABOUT OUR CITY, DO WE SEE PEOPLE HURTING, AND WALK ON BY? DO WE QUIETLY MIND OUR OWN BUSINESS AS THE EVIL OF THE CITY PREVAILS, OR DO WE TAKE A STAND AND CONTEND FOR THE FAITH? THESE ARE JUST A FEW AREAS IN WHICH WE AS CHRISTIANS MAY TEND TO LOSE GROUND. LET NOTHING DISTRACT US, IT'S TIME TO CONSIDER THE LORD'S NAME AND FOLLOW NEHEMIAH IN RESTORING WHAT HAS BEEN LAID IN RUINS. LET US START WITH RESTORING PRAYER TO OUR LIVES.
"And I said unto the king, If it please the king, and if thy servant have found favor in thy sight, that thou wouldest send me unto Judah, unto the city of my Father's sepulchers, that I may build it." Nehemiah 2:5
"Then I said unto them, Ye see the distress that we are in, how Jerusalem lieth waste, and the gates thereof burned with fire: come, and let us build up the wall of Jerusalem, that we be no more a reproach." Nehemiah 2:17
TO JAMES: HELLO JAMES, YES I KNOW THIS FEELING. THERE IS BEAUTY AND THEN THERE IS BEAUTY BEYOND BEAUTIFUL! DRIVEN TO SAVE A SOUL, DRIVEN TO SAVE A LIFE, THESE TYPE POUR OUT THEMSELVES FOR OTHERS. NOTHING WILL STOP THEM, NOTHING HINDERS OR STANDS IN THEIR WAY, THEY ARE SUPER COMPELLED BY COMPASSION AND LOVE, AND IT'S WAY BEYOND THIS WORLD'S UNDERSTANDING OF LOVE! OH TO SEE A LIFE SAVED FROM DEATH AND A SOUL FROM HELL, IT CHANGES YOU, WE SEE IN THEM A LIGHT THAT FOREVER SHINES THROUGH DARKNESS AND THIS LIGHT IS A LOVE LIKE NO OTHER. WE SEE THIS IN JESUS AS HE ENDURED THE CROSS TO SAVE OUR SOUL, AND WE SEE BITS AND PEICES OF THIS IN OTHERS WHO TIRELESSLY GIVE THEMSELVES TO SAVE A LIFE, AND AFTER A 20 HOUR DAY SIMPLY SAY, "SO GLAD I WORE MY FLATS!" OR "FATHER FORGIVE THEM FOR THEY KNOW NOT WHAT THEY DO!" JAMES IT IS AN EXTRAORDINARY THING TO LOVE ANOTHER THIS WAY!
"Looking unto Jesus the author and finisher of our faith; who for the joy that was set before him endured the cross, despising the shame, and is set down at the right hand of the throne of God." Hebrews 12:2
"Greater love hath no man than this, that a man lay down his life for his friends." John 15:13
TO SUSAN, KIM, AND ABBIE: ABSOLUTELY! THIS IS A TOUGH ROAD, BUT THERE IS NO OTHER ROAD THAT LEADS US TO LIFE FOREVER IN HEAVEN. PEOPLE HAVE OFTEN ASKED ME, "WHY DOES IT HAVE TO BE SO HARD?" LET'S BE CLEAR, IT'S NOT HARD TO GET ON THIS ROAD, JESUS SIMPLY INVITES US TO COME, AND WE ENTER IN ONTO THIS ROAD, AND THEN IT IS FOR US TO MAKE THE DECISION DAILY TO STAY ON HIS ROAD. THE ROAD TO HEAVEN IS EASY TO GET ON, BUT STAYING ON THE ROAD IS A DAILY CHOICE, WE MUST ALWAYS REMEMBER THE REWARD IS SO GREAT! OFTEN WE CANNOT SEE WHAT LIES AHEAD, YET JESUS CLEARS THE WAY, AND LEADS US HOME. IT IS FOR US TO TAKE HIS HAND DAILY AND FOLLOW HIS LEAD. PRESSING FORWARD TOGETHER WITH JESUS, SIDE BY SIDE, HAND IN HAND, IN CHRIST WE STAY THE COURSE. THE ROAD IS NOT ALWAYS EASY, BUT IT IS THE WAY TO ETERNAL LIFE!
"Enter ye in at the strait gate: for wide is the gate, and broad is the way, that leadeth to destruction, and many there be which go in thereat: Because strait is the gait, and narrow is the way, which leadeth unto life, and few there be that find it." Mathew 7: 13,14
"That in the dispensation of the fullness of times he might gather together in one all things in Christ, both which are in heaven, and which are on earth; even in him: In whom also we have obtained an inheritance, being predestinated according to the purpose of him who worketh all things after the counsel of his own will: That we should be to the praise of his glory, who first trusted in Christ. In whom ye also trusted, after that ye heard the word of truth, the gospel of your salvation; in whom also after that ye believed ye were sealed with that Holy Spirit of promise." Ephesians 1:10-13
TO LUKE AND MARK: WELL IT WOULD SEEM THAT IN MOST CASES MEN DO NOT SHARE THE SAME ABILITY IN THEIR HEARTS TO FEEL OR TO HAVE EMOTION, BUT THIS IS NOT TRUE, THERE ARE SO MANY TIMES THAT WE SEE THAT MEN ARE VERY EMOTIONAL, COMPASSIONATE, AND LOVING. IN FACT, IT WAS A MAN, A DISCIPLE OF JESUS, PETER, WHO WAS EXTREMELY UPSET AND EMOTIONAL WHEN JESUS BEGAN TO INDICATE THAT HE WOULD BE LEAVING HIM. PETER DESPERATELY WANTED TO FOLLOW JESUS WHEREVER HE WOULD GO! FEELINGS OF THE HEART ARE A MYSTERIOUS THING, AND MANY MEN HAVE STRONG FEELINGS, EVEN THOUGH THEY HAVE BEEN TAUGHT THROUGHOUT THEIR CHILDHOOD TO NOT SHOW THEM, TO BE MANLY, TO HIDE THESE FEELINGS, ETC. JESUS HOWEVER, DOES WANT US TO BE HAPPY, NOT TO BE TROUBLE, OR SAD, AS WE SEE FROM HIS RESPONSE TO PETER WHEN HE TELLS HIM TO NOT BE TROUBLED. STILL, BE TRUE TO YOUR HEART AND NEVER THINK IT IS WRONG TO FEEL.
"Let not your heart be troubled: ye believe in God, believe also in me. In my Father's house are many mansions: if it were not so, I would have told you, I go to prepare a place for you. And if I go and prepare a place for you, I will come again, and receive you unto myself; that where I am, there ye may be also." John 14:1,2
"Blessed are the pure in heart: for they shall see God." Mathew 5:8
TO KIM: HI HOW ARE YOU? THAT'S RIGHT! I SEE THAT EVERY PART OF OUR LIFE SPEAKS, NOT ONLY DO WE SPEAK THROUGH OUR LIPS, OUR MOUTHS, AND OUR VOICES, BUT EVERY SINGLE PART OF OUR MIND AND HEART SPEAKS, OUR HANDS, OUR EYES, OUR MOTIONS, EVEN DOWN TO OUR FEET; FOR EXAMPLE GOD TAKES NOTICE TO OUR FEET IN THAT HE TELLS OF THEIR BEAUTY, AND THIS IS NOT BASED UPON THE TYPES OF SHOES THAT WE SOMETIMES WEAR, SUCH AS FLATS, HEALS, SNEAKERS, ETC. BUT RATHER IT IS BASED UPON THE PLACES THAT OUR FEET TAKE US, WHAT WE USE THEM FOR IN THE SETTING TO MOTION GREAT THINGS FOR HIS KINGDOM, SUCH AS CARRYING WORDS OF COMPASSION AND KINDNESS TO THOSE THAT NEED HEALING, SO THAT OUR FEET ARE BEAUTIFUL, OUR EYES, OUR VOICE, OUR SURGICAL HANDS, AND OUR MINDS THAT OPERATE THEM, ALL OF THESE AND MORE ARE BEAUTIFUL. GOD ASSIGNS BEAUTY TO WHO WE ARE AND WHAT WE DO WHEN WE ALLOW OURSELVES TO BE HIS INSTRUMENTS OF RIGHTEOUSNESS, COMPASSION, AND HEALING. SO THE PREACHING OF THE GOSPEL IS OFTEN ACCOMPLISHED BY WHAT WE DO MORE THAN WHAT WE SAY. IF WE MUST, THEN WE USE WORDS, BUT WORDS ARE NOT ALWAYS SPOKEN. THEY ARE SENT OUT BY WHAT WE DO.
"And how shall they preach, except they be sent? As it is written, how beautiful are the feet of them that preach the Gospel of peace, and bring glad tidings of good things." Romans 10-15
"How beautiful upon the mountains are the feet of him that bringeth good tidings, that publisheth peace; that bringeth good tidings of good, that publisheth salvation; that sayeth unto Zion, Thy God reigneth!" Isaiah 52:7
TO JAMES: HELLO JAMES, YES I KNOW THIS FEELING. THERE IS BEAUTY AND THEN THERE IS BEAUTY BEYOND BEAUTIFUL! DRIVEN TO SAVE A SOUL, DRIVEN TO SAVE A LIFE, THESE TYPE POUR OUT THEMSELVES FOR OTHERS. NOTHING WILL STOP THEM, NOTHING HINDERS OR STANDS IN THEIR WAY, THEY ARE SUPER COMPELLED BY COMPASSION AND LOVE, AND IT'S WAY BEYOND THIS WORLD'S UNDERSTANDING OF LOVE! OH TO SEE A LIFE SAVED FROM DEATH AND A SOUL FROM HELL, IT CHANGES YOU, WE SEE IN THEM A LIGHT THAT FOREVER SHINES THROUGH DARKNESS AND THIS LIGHT IS A LOVE LIKE NO OTHER. WE SEE THIS IN JESUS AS HE ENDURED THE CROSS TO SAVE OUR SOUL, AND WE SEE BITS AND PEICES OF THIS IN OTHERS WHO TIRELESSLY GIVE THEMSELVES TO SAVE A LIFE, AND AFTER A 20 HOUR DAY SIMPLY SAY, "SO GLAD I WORE MY FLATS!" OR "FATHER FORGIVE THEM FOR THEY KNOW NOT WHAT THEY DO!" JAMES IT IS AN EXTRAORDINARY THING TO LOVE ANOTHER THIS WAY!
"Looking unto Jesus the author and finisher of our faith; who for the joy that was set before him endured the cross, despising the shame, and is set down at the right hand of the throne of God." Hebrews 12:2
"Greater love hath no man than this, that a man lay down his life for his friends." John 15:13
TO ABBIE: HI ABBIE, HOW ARE YOU? AS IT IS I SEE THEM OCCASIONALLY. SO WHAT HAVE YOU BEEN DOING? OH! I REMEMBER THAT BOOK, IT WAS GREAT! HANNAH HURNARD I THINK WAS THE AUTHOR. "HINDS FEET IN HIGH PLACES" WOW! WHEN I READ IT THE FIRST TIME I COULDN'T PUT IT DOWN, WHAT AN AWESOME STORY, ACTUALLY AN ALLAGORY DEPICTING ONE WOMAN'S JOURNEY FROM THE CLUTCHES OF HER CRUEL FAMILY AS SHE WAS RESCUED AND TAKEN UP TO HIGHER PLACES WITH GOD. I WOULD RECOMMEND THIS TO ALL. I KNOW YOU WILL ENJOY THIS BOOK. IT IS ALWAYS NICE TO RELAX WHILE READING A GOOD BOOK. GOD GIVES US SO MANY THINGS TO BE GRATEFUL FOR, HIS CARE GIVES US MANY REASONS TO REJOICE.
"The Lord God is my strength, and he will make my feet like hind's feet and will make me to walk upon mine high places." Habakkuk 3:19a
"We love Him, because He first loved us." 1John 4:19
JULY
TO LUKE: HI LUKE, WELL "IN JESUS" THIS IS THE PRIMARY. IN ALL THAT WE DO WE MUST BE FOUND IN JESUS, IN ALL THAT WE EXPERIENCE WE MUST BE FOUND IN JESUS. SO "IN JESUS" IS WHERE WE MUST CONCENTRATE. AS IT IS WRITTEN IN THE BOOK OF ACTS 17:28 "IN HIM WE LIVE AND MOVE AND HAVE OUR BEING." NOW REGARDING BAPTISM AS THE TOPIC OF YOUR QUESTION, WE MUST BE BAPTISED IN JESUS, SOME WILL SAY "IN THE NAME OF THE FATHER, THE SON, AND THE HOLY SPIRIT WITH A CEREMONY OF BAPTISM THAT INDICATES THE COMING INTO JESUS BY THEIR METHOD, WHILE OTHERS BELIEVE THAT YOU MUST BE FULLY SUBMERGED INTO A BAPTISMAL POOL OF WATER AS A METHOD OF SHOWING THE JOINING OF OURSELVES INTO THE DEATH, BUREAL, AND RESURRECTION OF JESUS. OUR FOCUS IS NOT ON DEBATING THE METHOD, BUT RATHER ON ENTERING IN. "IN JESUS" IS THE PRIMARY THING.
"Know ye not, that so many of us as were baptized into Jesus Christ were baptized into his death?" Therefore we are buried with him by baptism into death: that like as Christ was raised up from the dead by the glory of the Father, even so we also should walk in newness of life. For if we have been planted together in the likeness of his death, we shall be also in the likeness of his resurrection." Romans 6:3-5
"For in him we live, and move, and have our being; as certain also of your own poets have said, For we are also his offspring." Acts 17:28
TO ABBIE: HI ABBIE, SO IMPORTANT IS IT TO HEAR FROM GOD, TO BE LED BY HIS WORD. A SPIRITUAL DIVINE REVELATION ALWAYS SURPASSES MAN'S WISDOM AT ANY LEVEL. SOME HAVE A LIFETIME OF STUDY IN FIELDS THAT THE AVERAGE PERSON WILL NOT UNDERTAKE, YET WITH DIVINE REVELATION, THROUGH A WORD FROM GOD, OR A MOVING OF THE HOLY SPIRIT, THE AVERAGE PERSON CAN UNDERSTAND. ONE MIGHT SAY, "THEY WOULDN'T UNDERSTAND THESE THINGS" OR "HOW CAN THEY KNOW" THIS IS THE NORMAL RESPONSE OF THOSE THAT DO NOT UNDERSTAND GOD. THERE ARE SO MANY THINGS THAT ARE BEYOND US, FOR EXAMPLE UNDERSTANDING SPIRITUAL CONNECTIONS, WE CAN UNDERSTAND THE HEART AS WE OBSERVE AND STUDY IT PHYSICALLY, BUT SPIRITUALLY, WHO CAN UNDERSTAND? ONLY GOD CAN KNOW SOME THINGS, AND HEART CONNECTIONS ARE HIS AREA OF EXPERTISE!
"But as it is written, Eye hath not seen, nor ear heard, neither have entered into the heart of man, the things which God hath prepared for them that love him. But God hath revealed them unto us by his Spirit: for the Spirit searcheth all things, yea the deep things of God." 1Corinthians 2:9, 10
"For who hath known the mind of the Lord, that he may instruct him? But we have the mind of Christ." 1Corinthians 2:16
TO JOHN: WELL YOU KNOW JOHN, WE ARE INFLATABLE! SOME COMMENTS ON LIFE AND LIFE AGAIN IS NOT BEYOND THE ABILITY OF GOD. AS WE KNOW JESUS IS THE RESURRECTION AND THE LIFE! AND WE FIND THAT MANY ARE WALKING/LIVING BUT ARE NOT ALIVE OR FEELING AS THOUGH THEY HAVE A LIFE! BUT I TELL YOU MY FRIEND MY RESPONSE TO PEOPLE THAT ARE SO DOWN AND DEPRESSED IS THAT THEY ARE INFLATABLE! GOD IS ABLE TO BREATHE NEW LIFE INTO THEM. HE IS THE GOD OF ALL POWER! MANY HAVE HEARD OF HIS MIRACLES, OF EZEKIEL AND THE VALLEY OF DRY BONES, OF LAZARUS AND JESUS FAMOUS WORDS "LAZARUS COME FORTH" GOD IS ABLE TO REVIVE OUR LIFE AND MAKE US BREATHE NEW LIFE AGAIN! WE ALL MUST BE WILLING TO SAY I WANT TO BE ALIVE AGAIN AND GOD WILL ANSWER! JESUS SAID I AM COME THAT YOU MIGHT HAVE LIFE!
"Then he said unto me, Prophesy unto the wind, prophesy, son of man, and say to the wind, thus saith the Lord God; Come from the four winds, O breath and breathe upon these slain, that they may live." Ezekiel 37:9
"Jesus said unto her, I am the resurrection and the life: he that believeth in me, though he were dead, yet shall he live." John 11:
TO KIM AND ABBIE: OUR DESIRE TO LIVE FOR JESUS IS NOT WITHOUT MERIT OR REWARD. WHEN THAT DAY COMES WHERE WE ARE WITH HIM COMPLETELY HAVING PUT OFF ALL THAT IS IN THIS WORLD, IT WILL BE BEAUTIFUL. TO BEHOLD JESUS 24/7 WITHOUT INTERRUPTION OR DISTRACTION WILL BE WELL WORTH EVERY DAY OF EFFORT THAT WE SPEND TO ENDURE AND TO ESCAPE THE WHILES OF OUR ENEMY. WE KNOW THAT THE TRUTH SHALL SET US FREE AND FREE WE SHALL BE. FREE TO FOREVER GAZE UPON HIM. FREE TO SEE WITH OUR VERY OWN SOUL AND SPIRIT, JESUS, AND TO TAKE IN THE BEAUTY OF HIS KINGDOM. THIS IS WHAT WE SEEK AFTER, THAT WE WILL DWELL WITH HIM AND TO INQUIRE OF HIM IN HIS HOUSE ALL OF OUR DAYS! NOW THIS IS BEAUTY, AND FOR US TO HAVE THIS IN OUR HEART IS BEAUTY, THERE IS NO GREATER BEAUTY THAT EXISTS!
WE WILL AT THIS TIME SING THIS SONG: I SEE YOUR FACE YOU ARE BEAUTIFUL, SO BEAUTIFUL, YOU'RE BEAUTIFUL! I SEE YOUR FACE YOU ARE BEAUTIFUL, SO BEAUTIFUL, YOU'RE BEAUTIFUL!
"One thing have I desired of the Lord, that I will seek after; that I may dwell in the house of the Lord all the days of my life, to behold the beauty of the Lord, and to inquire in his temple." Psalm 27:4
"Blessed be the Lord God of our Fathers, which hath put such a thing as this in the kings heart, to beautify the house of the Lord which is in Jerusalem." Ezra 7:27
http://souls-for-christ.com/id11.html
TO THE A&L BIBLE STUDY GROUP
JOHN 15:1-5
The True Vine – When picking fruit from the vineyard take note that Jesus is that true vine, our main source. Jesus is that vine, and God the Father is the husbandman, the caretaker, and the originator. "In Him" The vine is "In Him" and we are in the vine. Jesus is in the Father as the true vine and we are in the true vine as his branches. All of us together "IN HIM" and he is in us. Apart from him and apart from each other we can do nothing. Unless we are "IN HIM" we are branches that will wilt for the lack of nourishment. Jesus, the True Vine is the primary tributary that allows the flow of life. We need Jesus to sustain our life and to produce fruit. Now with this, one might say, "I can make it without Jesus!" Friend, this is not so! Do not be fooled by this! Here comes the truth from Jesus, Every branch "IN ME" that beareth not fruit he taketh away: and every branch that beareth fruit he purgeth it, that it may bring forth more fruit." John 15:2
Hold on, see here how "Every branch in me" that beareth no fruit. Wait, how can this be? Can a branch that is "IN HIM" not bear fruit? Do they just hang around while others pray, while others do the witnessing, the studying, the preaching, teaching, and the helping of others? Can someone be "IN JESUS" and do nothing? This is very important, it is not what we do, it is what he does while we are resting "IN HIM" It is possible to be "In Him" and bear no fruit! Because they are not abiding "In Him" they are Busy Bees, moving or chatting so much and not listening, going and doing what seems right to them, still "In Him" but always moving away from him. And they are fruitless. So what happens to them, what will Jesus do when he discovers there is no fruit? He takes them away! The branch that bears no fruit is taken away! Yes, one can start in Jesus, and be in Jesus, and fail to abide in Jesus, thereby laboring in vain thinking that they are building, that they are the source, or that they are the reason that fruit comes. Jesus is that True Vine and there is no other! Read again here what Jesus tells us in verse two, "Every branch "IN ME" that beareth no fruit, he taketh away." They are "IN HIM" but they have no fruit! Friend, we cannot be "IN JESUS" and do whatever we please, we must continually abide "In Him". If we abide "In Him" then we will bear much fruit. Now I hope that this is coming to you. There is one way to be "In Jesus" abiding "In Him" and there is another way to be "In Jesus" not abiding but rather wrestling to stay "In Him"
Again, "Every branch "IN ME" that beareth no fruit he taketh away." So yes there are branches that come into Jesus, thus we have the "IN ME" They are "In Him" for a short time until he takes them away, because they are not faithful and do not abide "In Him" and produce no fruit. Now this is an amazingly terrible thought that some will come into Jesus and would be soon taken away! Pausing for a moment, I want you to know, I will always believe that once a person is saved they are always saved! We cannot say in our heart who is saved or is not, I am simply describing what Jesus has said in here in John 15. Jesus is Lord and He is the one who does the grafting in and the taking away. His word is true! So, how can this be that one might be taken away? Because they do not "ABIDE". If they abide they bear fruit, even much fruit! "Abide in me and I in you. As the branch cannot bear fruit of itself, except it abide in the vine, no more can ye except ye abide in me." John 15:4 So this is the way that we are able to live "In Him" and that way is to abide "In Him" To abide means to continue. Continue to do what? We must continue daily to listen to God and to obey His commands. We cannot pick and choose the ones we like to keep, and we cannot pick and choose which ear will listen, when it will listen, and how it will accept what it hears! Abiding is continuing in ALL that He says to us, inasmuch as we are able. This is a formula for bearing fruit.
So today we are "IN HIM" tomorrow we are "IN HIM", the next day, and on and on! Not one day here and the next day not! Abiding is our seal. Abiding "IN JESUS" is our deal with our Father! This is light duty! "If ye abide "IN ME" and my words abide in you" This is the way that we remain "In Him" to continue daily to abide, and we will never be taken away. This is the formula for bearing "Much Fruit" TO BE CONTINUED…
http://souls-for-christ.com/id11.html
TO THE A&L BIBLE STUDY GROUP
JOHN 15:1-5 CONTINUED…
Bringing forth more fruit: Ok, so it's already established that you can bear fruit, now what? Now we ask God to help us bear more fruit. How do we go from bearing some fruit to bearing "Much Fruit"? This is simple! No we don't have to work harder, pray more, or get out to witness any more than before, remember that Jesus told us, "For my yoke is easy, and my burden is light." Mathew 11:30 One might say, "It's too hard to serve Jesus, I have never been able to lead a soul to the Lord, I have never witnessed a God using me as his vessel that brings forth healing to anyone! Friend, this is not how we ought to look at things. God moves in mysterious ways and what you may think that you haven't been used for, may be exactly what God has used you for and you never realized it! For example, you had a friend that was on fire for Jesus and loved to tell others about Hid saving grace, but you just wasn't sure how to do that yourself, so now you tell your friend where souls were that needed to hear the Gospel of salvation. In this way God used you as an instrument that wins souls to the Lord, You did little, but that little led towards much! God's work is simple, it is light! "Abide in me, and I in you" "He that abideth in me and I in him, the same bringeth forth much fruit." John 15:4,5 The point is, you were used because you were in Jesus, mindful of him and his heart's desire to reach the lost, and therefore the simple act of telling your friend where these lost souls were, led to salvation! He that abideth in me! We are used because we abide in Him! Many miracles are accomplished not by great soul winners, but by faithful servants that are simply abiding "IN HIM" Now there is another word that must be said and that word is continually! CONTINUALLY DAILY, we abide in him, and He in us! Without break, without pause, we go in and out and find pasture because we exit and enter in Him daily continually! Abiding is faithfully being with Jesus, for Jesus, and IN JESUS continually, daily, non-stop! OH! But what about a vacation here? Yes and Amen! We are granted vacation, while we are on vacation he is with us and we are with him! The best vacations that we will ever have are the one that includes Jesus, I can't imagine having an enjoyable vacation without Jesus! This is the world's idea of vacation, full of sin, and without Jesus! This is not enjoyable, but rather painful! "In Him we live, and move, and have our being; as certain also of your own poets have said, for we are also His offspring." Acts 17:28 So even on vacation we abide in Him, and even on vacation we will bear much fruit! Abiding in Jesus is not strenuous, it is not arduous, and abiding in Jesus is pleasurable! Praising Jesus throughout our day, meditating on his words, and saturating ourselves with His presence! This is a true vacation from the evil of this world! THIS IS A TRUE VACATION! Abiding in Jesus is not work, it is a stress reliever from work and the trials of this life! In Jesus we are taken away from the grind of this world. In Jesus we sing hymns, as he smiles on us! This is where Jesus is… Jesus is in our midst when we seek him and abide in him, he will take up his abode in us!
"Much fruit" "Every branch that beareth fruit, he purgeth it, that it may bring forth more fruit." John 15:2 "He purgeth it" Now this sounds rough, almost like a scraping of the skin, or a taking away of a limb! Yet, if it is not done, there is no room for more fruit. This purging may seem painful, but when we submit to Jesus, and allow Him to work, realizing that this work is for our good to enable us to produce more, when we surrender to our master knowing that he loves us, then this purging is light, easy, and painless, but when we fight him, when we wrestle against God and his process not allowing this process to come to completion, it is painful, and the end result is disobedience unto God. No fruit comes from this, and therefore he taketh away the branch that beareth no fruit! Will Jesus take away the branch that beareth no fruit? Friend Jesus is merciful, compassionate, and longsuffering not willing that any should be taken away. But friend, Jesus is also the Master-Builder and true to his word, "Every branch in me that beareth not fruit he taketh away" John 15:2 Now since we established that abiding in Jesus is pleasurable, easy, and light. Why would anyone not want to abide in him? I'm sure that we all want an easy and pleasurable life, and here we see how to have it. Abide in JESUS! "IN JESUS" we can have it! So the goal for us is simple, continuously, daily, abiding in Jesus. Live in Him, Move with Him, and have our conversations, and meditations with him. It is easy and pleasurable to rejoice in HIM! S what keep sus from doing this?
Our focus!
TO BE CONTINUED…
http://souls-for-christ.com/id11.html
TO THE A&L BIBLE STUDY GROUP: Abbie, Luke, James, Debra, John, Susan, Kim, Mark
THE AUDACITY OF FAITH!
"There was a man of the Pharisees named Nicodemus, a ruler of the Jews: the same came to Jesus by night, and said to him, Rabbi, we know that thou art a teacher come from God: for no man can do the miracles that thou doest, except God be with him." John 3:1, 2
These days, it might be called "taking your life into your own hands! The thought that a stranger could visit you in the night might stir up a few defensive ideas. Who visits in the night? Maybe by chance a family member or someone that is close or known, but never a complete stranger! Yet Nicodemus was exactly that. He was not someone that was well known, as in close family, by Jesus, Yet he came at night believing that he would be received by Jesus, yes seen, but not only seen, but that he could have a conversation with him at this hour! Is this the audacity of faith? Did he have any thought that Jesus might be sleeping or just a little hesitant to talk to a stranger as such? Friend, isn't it good to know that our Father is accessible at all hours, he is always available to chat. He welcomes all even the furthest of strangers, even those that are not in agreement with him. Jesus is not willing that any should perish, he is always ready to answer our questions, and welcome all with loving arms. Jesus is selfless, tirelessly exhibiting the surrender to the needs of others! This Pharisee, perhaps another one that sought to stop Jesus, was received into the home of Jesus in the night. I think the truth is, Nicodemus desired salvation, the head ruler of the Jews, religious in every way, yet just not sure if he was going to make it to heaven! Having doubts, having questions, and with such a burden upon his heart, he himself couldn't rest, he couldn't sleep until he had a few things resolved with Jesus! Have you ever been there? Nicodemus dared not to go to another! This burning question he dared not utter, but rather he attempted to "beat around the bush" before Jesus. Instead of asking how he could be saved, he begins to recite before Jesus what he believes, that Jesus is come from God. Not letting the conversation skip a beat, not allowing Nicodemus to back away, Jesus immediately goes straight to Nicodemus' heart and his need to increase his faith. "Jesus answered and said unto him, Verily, verily, I say unto thee, Except a man be born again, he cannot see the kingdom of God." John 3:3 All of his life Nicodemus was certain that he would see the kingdom of God, that he had worked this all out, that there was no way that he could miss it, until Jesus… When Jesus began to minister, Nicodemus for the first time in his life heard the truth from God! Now all that he was living for, all that he had worked for, and all that he had ever heard or learned about God was in question! Now you might be able to understand why Nicodemus was not able to sleep! He was highly disturbed and was not willing to waste one more moment not knowing! That something that was eating at him was the insecurity of his future! So in the night, when no other Pharisee could witness his doubt, his backsliding from all that was held true, wanting to fix this insecurity so that he could rest, he made his way before Jesus, the Master who had come from God, the only teacher that could answer in truth. Before Jesus, Nicodemus thought he was saved already, but the truths that Jesus shared with the world was convicting all of the lies that Nicodemus had learned prior to Jesus. Have you ever thought that you had it all right and suddenly you learn that you were wrong? TO BE CONTINUED…
http://souls-for-christ.com/id11.html
TO READ THE A&L LETTERS AUGUST TO THE END PLEASE GO TO:
http://souls-for-christ.com/id13.html
AVAILABLE SOON!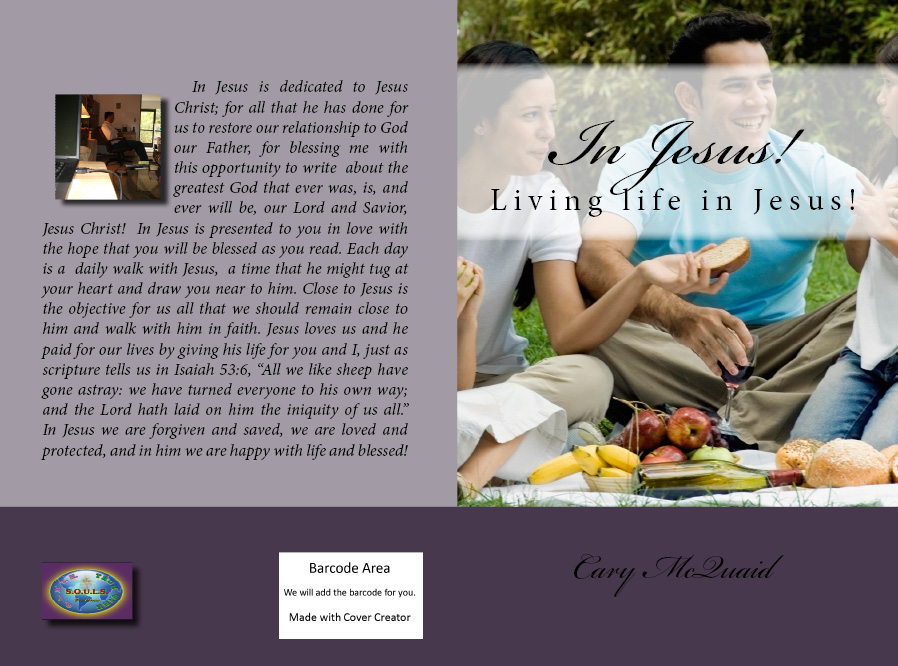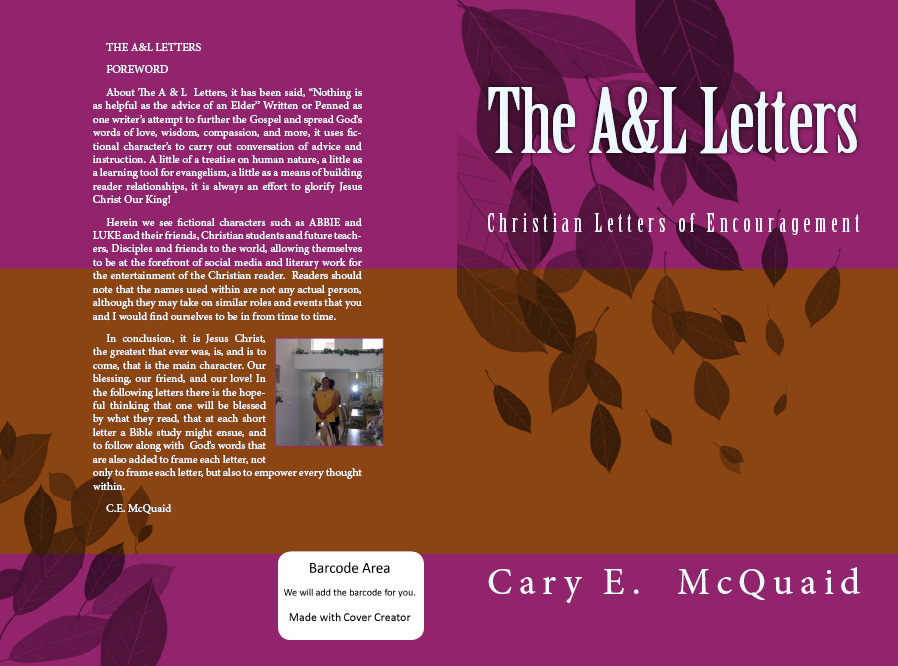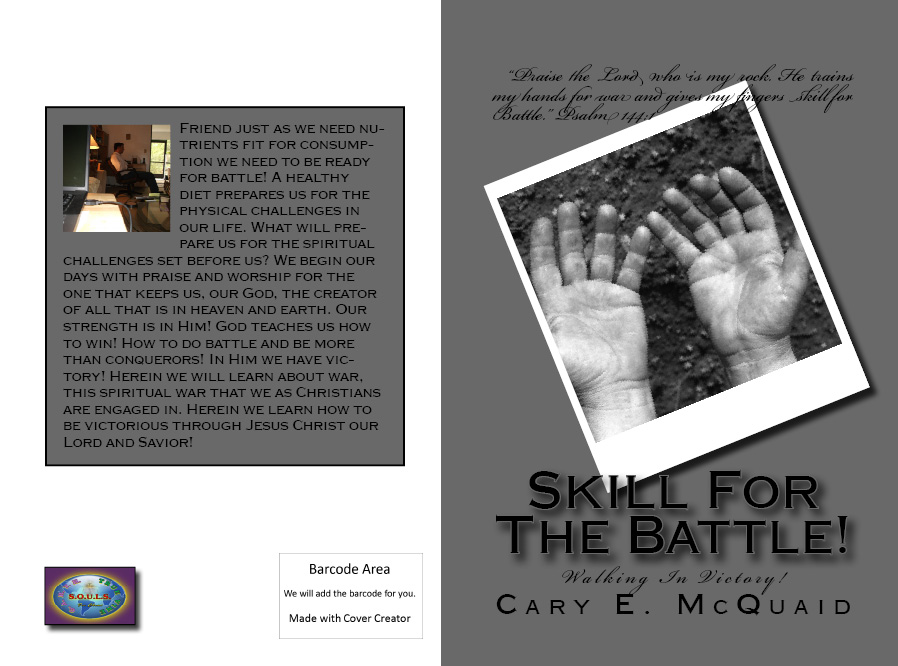 IN JESUS TODAY, THE A&L LETTERS AND SKILL FOR THE BATTLE!
@
Cary McQuaid | Create Your Badge

EMAIL US AT: sfcword@souls-for-christ.com
Jesus Saves! - Souls For Christ Ministries